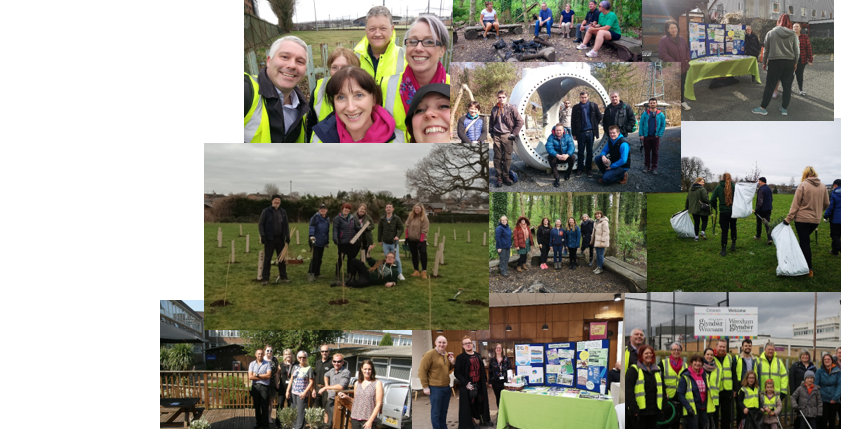 People
WGU's Sustainability and Environment Team ensure that the University operates as sustainably as possible.
Lead by the University's Director of Operations Lynda Powell, the team acts as a focal point for all aspects of sustainability within the University and manages a variety of projects, from biodiversity on all campuses, engagement schemes such as green champions, and WGU's growing facility to sustainable development within the curriculum. SAWG works closely with WgSU and their WgSU sustainability officer.
From WGSU: Katie Taffinder Marc Caldecott Sammy Spillane
Green champions
The Wrexham Glyndŵr University Carbon Management Plan (Appendix B, pg 25, Stakeholder Management) shows our structure and methods of engagement with staff and students in the implementation of the plan. Amongst some of our processes, we include our Green Champion scheme.
Wrexham Glyndŵr University is committed to implementing energy conservation practises and measures, preserving environmental resources and reducing our Carbon Footprint. To help us address a full spectrum of environmental and sustainability issues, we are building a team of Green Champion staff volunteers to help us all to be more environmentally aware in the workplace, to bring the best thinking of our employees and together help treat our planet's resources more carefully and considerately.
Each year, training takes place at our Northop Campus in conjunction with Outdoor and Environmental Educationalists. Training ensures that staff receive information which includes sessions on:
What is sustainability?
What is a Green Champion – How we can help?
Biodiversity – How ecosystems work.
Carbon footprint – Energy/pollution.
Food Systems.
Resource Use.
Woodland.
Being a Green Champion gives you training opportunities, as well as invitations to sustainability lectures, events and campaigns to get involved in, and you will also be sent a monthly green champions newsletter to keep you up-to-date with WGU's sustainable news, and hopefully give you some inspiration in how to inspire others. If you are interested in being a Green Champion, you can contact energyandsustainability@glyndwr.ac.uk.
View our latest WGU Green Champions News
Safety, Health and Environment Committee

The committee consists of staff from both academic and professional services. This group discusses and implements the objectives from the strategy and reports through to the Vice Chancellors board.
WGSU's CEO sits on the SHE committee, ensuring all duties are carried out within the organisation. Having a member of WGSU on the SHE committee ensures that best practice can be shared amongst students and throughout departments. The University takes its role within the wider community seriously and is committed to establishing and strengthening partnerships with local business, charities and other organisations.
Collaboration/partnerships already established:
Flintshare- a community led growing group.
F&DBKA- local beekeepers association.
British Heart Foundation.
Food Bank.
Flying Start.
Safety, Health and Environment Committee tackles issues of mutual concern to local residents, students and the University. The committee meet regularly. Reports on sustainability are made to the committee from the Sustainability Action Working Group, including a review of community issues raised and dealt with throughout the year.
Sustainability Action Working Group
In 2016, the University established a Sustainability Action Working Group, which includes student, academic, professional department, union and Unison representation.
The group meet quarterly to plan, implement and review the University's sustainability and green agendas and targets.
Progress against targets is reviewed annually and approved by Executive Director of Operations, who chairs the Group.
They advise and make recommendations to the university on all aspects of sustainability and help to promote social responsibility within the University. They implement and review sustainable policies and promote the engagement of the University's curriculum and research with issues relating to sustainability and social responsibility. They recruit and appoint green champions and disseminate information to the wider University community.
The Sustainability Action Working Group (Previously the Sustainability Advisory Forum) reports to the Safety, Health and Environment Committee. It has a number of members from the Students' Union which highlights that sustainability is a high priority throughout the organisation. Currently, SAWG is working towards improvement in Environmental and Sustainability projects and aiming to improve WGU's position in the People & Planet league table.

Alongside this, the Students' Union has been working hard on the sustainability agenda and we are delighted to announce that they achieved an Excellent award from Green Impact with support and partnership from the University and the Sustainability Action Working Group. The Green Impact panel recognised how small the institution is and commended the great partnership between both organisations in this area.
Take a look at our latest SAWG Minutes.
Keep up to date with what WGU's Green Community is doing to become more sustainable and oppertunities to get involved with eco events, campaigns and become part of the voice that is shapeing WGU's sustainable policies and procedures.
Green Communities
We're commited to supporting local green community groups to help people lead a sustainable lifestyle. Find out more about the community groups below.