How much does it cost to live in Wrexham?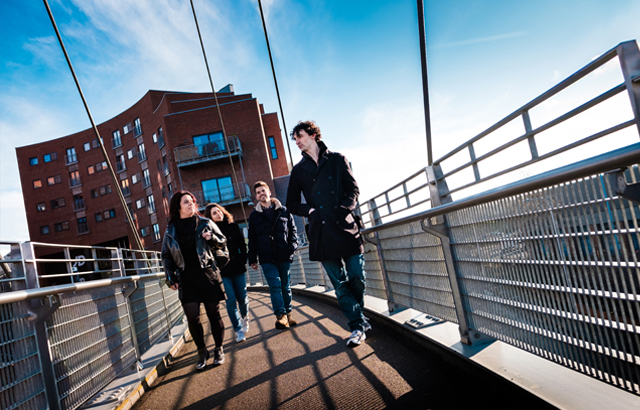 There are lots of things to think about before choosing which university you want to apply to.
Is the course there what you've been looking for? What are the facilities like? How close is it to home? Does it have a good nightlife?
And, of course, how expensive is it to study there?
The last of these questions, in particular, is especially high on everyone's agenda at the moment - and understandably so.
With the UK facing a cost of living crisis, and the Office for Budget Responsibility predicting that disposable household income will see its biggest fall in one financial year since records began, gauging how much it will cost to live at your chosen university is a huge consideration.
The great news for students choosing Wrexham University is that it's one of the most affordable places in the UK to study.
The cost of living as a student in Wrexham
The cost of living as a student in Wrexham will depend upon your lifestyle. Though, it is considerably less than the national average in the UK.
The price for students living in our on-campus accommodation starts from £440pcm - a whopping 58% cheaper than that of bigger cities like London which came in at around £800pcm.**
Private housing is also an option for Wrexham University students and can cost up to £266 per month, compared to that of £1300 in London - a 132% increase.***
Most of the accommodations are at a distance of under 3 miles. While the ones outside of the city center are up to 20 miles.
Bursary-comissioned courses
Following our successful multi-million pound funding bid to launch an exciting raft of new Nursing and Allied Health Professions degrees, you can now study with us, without worrying about student loans and living costs.
All you need to do is commit to working in Wales for two years following completion of your chosen course, and your fees will be paid for.
Who knew gaining a degree could be free?
Studying a Nursing or Allied Health degree at Wrexham University opens up a world of opportunities for students to become Nursing and Allied Health professionals of the future. Find out more about our exciting new courses, unique to North Wales.
Great value accommodation
Of these outgoings, one of the biggest that students face is accommodation. A cost that in many places is on rise with Natwest's Student Living Index 2021 reporting that there'd been a 20% rise in rent over the course of the previous year.
We're proud to say that our on-campus accommodation, Wrexham Village, is more than 20% lower than the UK national average**.
For just £115 per week, you can choose one of our 321 private en-suite rooms with unlimited wifi, free secure parking and all of your utility bills and TV licence taken care of too.
Award-winning financial support
We have a friendly and award-winning Student Funding and Money Advice team here at the university too.
With years of experience, the team are on hand to answer your questions about fees, funding and scholarships.
Plus, they offer financial health checks to make sure that you will receive everything that you're entitled to.
We're passionate in our belief that university should be accessible to all, and do our best to ensure students can focus on their studies and not their bank balance.
Job opportunities
In addition to it being an affordable place to study, Wrexham is also a great place to find work.
Our dedicated Careers & Employability team is on hand to help you find a part-time job that will fit around your studies, boost your income and build your CV; from becoming a student ambassador to working at a local business.
Speaking of which, the city is home to a range of world-leading organisations and companies, including the BBC, Wrexham FC, Kellogs, Village Bakery and Moneypenny, as well as a wide range of independent shops, theatres, museums and art galleries.
Budgeting tools
Our help and support doesn't end once you become a student at Wrexham University either.
We understand that budgeting can be hard, especially for those who are away from home for the first time, and our Student Funding and Money Advice team provide one-to-one budgeting sessions and give you essential money saving tips.
You can also check out our tips to combating the cost of living crisis, or find a wealth of free resources online such as Money Saving Expert and Save the Student.


To find out more about studying with us get in touch here, or contact our Student Funding and Money Advice team on 01978 293295 / funding@glyndwr.ac.uk to discuss the cost of living while at Wrexham University.
*Figures based on results from a Save The Student survey, published 2022.
**Cost of Living in Wrexham for students, University Living, 2023
***Cost of Living in London for students, University Living, 2023