How to be more productive at university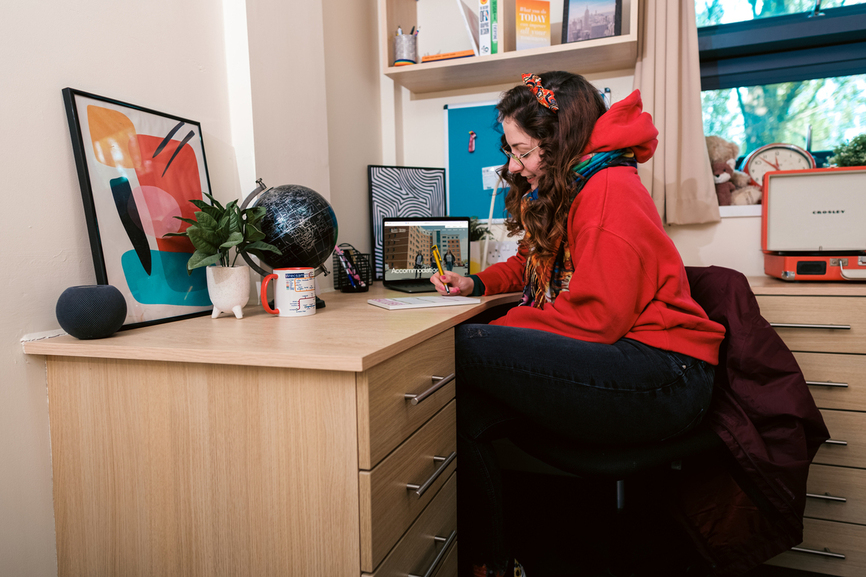 University life is not just about studying, but also socialising and working alongside your degree.
Balancing the demands of your studies, along with your personal and work life, means that it can sometimes be a struggle to stay motivated with assignments and prep for lectures.
We have put together some pointers on how you can be more productive as you study at WGU, so you can stay on track and succeed.
Think about your most productive time of day
Identify the time of day where you usually feel the most energy and focus. It could be after you've had your coffee in the morning, or when most people are tucked up in bed asleep at night.
Once you've figured this out, build your study schedule around the time when you're most likely to complete your work to a high standard.
Create a study schedule and plan for the week ahead
A study schedule, or an assignment schedule is a great way of keeping track of what you need to feel the most prepared for your upcoming lectures and assessments.
Rebecca Fielding, a Mental Health and Wellbeing student talks about how she puts a schedule together. She said "at the beginning of term, I like to create a colour coordinated diary of when I'll do assignments and I'll work out how much time I have to do them. I'm working on three assignments at the moment and my diary is really useful, as it tells me which assignments I should be working on and how many words I need to do to keep on track".
Have a daily to-do list
Get your favourite notebook and jot down a list of what you need to do that day. This will help you keep track of your goals as you make your way through your daily tasks. Build some self-care activities into your to-do list like:
Getting a nice hot drink

Meditating for 10 minutes

Reading a book

Going for a walk
And make sure to tick off when you have made your way through your goals for the day.
Start with 5 minutes
Creating a plan and a to-do list are all well and good, but actually starting the work you need to do is a different thing altogether.
Giving yourself 5 minutes to begin a task can help you jumpstart your productivity, as you can either get the hardest part of a task out of the way when you first approach it, or you can get stuck in and finish what you started.
Finding the motivation is often the hardest part and setting yourself 5 minutes to either start and finish a piece of work, or to start and carry on, is a strict way of tricking your brain into work-mode.
Create a space that works for you
Depending on the environment you work best in, you can build a dynamic and focussed space to optimise your approach to your work. We have split the different working environments into two categories, with some recommendations for each, to improve productivity:

The busy backgrounder- having a busy background works for some people. You may thrive in a space surrounded by some hustle and bustle, and there are a few things that can help improve your productivity to make sure that your environment inspires you, rather than distracts you.
Natural light- find a well-lit area, as this will stimulate your senses to stay alert.

Headphones- to block out the noise if it gets too rowdy

Comfortable clothing- to ensure that you are well-situated and ready to focus on your work.
The isolated learner- detoxing from distractions entirely could be what appeals to you. You may procrastinate easily and get drawn into being led away from your studies in a busy environment. If this sounds like you, we have a few tips that can help you really focus.

Concentration playlists- a background playlist can help the outside world melt away, noise cancelling headphones are a bonus as well.

Plants- having plants in your study space keeps your working environment fresh and interesting.

Phone detox- putting your phone away in a drawer for a set amount of time will help you disconnect from the outside world.
Keeping your to-do list close is something that applies to either category of learner. This will help keep yourself accountable as you make your way through your work in the environment that suits you best.
Take a break
This may seem counterintuitive, but studies have shown that short breaks boost productivity rather than take away from it. Taking a break can raise your energy levels whilst getting you out of the mindset of trudging through an assignment.
Some quick activity inspiration for a short break:

Watch an uplifting video

Catch up on messages

Eat a yummy snack

Do some light stretching
Engaging in an activity you enjoy helps reset your brain so when you return to your work, you look at it with fresh eyes.
Review
After a long and busy week, try to find some time to go over what you have learned. Making your way through your notes from the past week will help you absorb the new ideas you have covered in lectures, as well as highlight any gaps in your knowledge that you need to work on.

Identifying and addressing areas that need a little more attention than others is instrumental in improving your productivity, as this process allows you to go over anything you have missed so all of your bases are covered in the future.
We hope that these productivity pointers will be useful either as you study with us or even beforehand. Make sure to check out our courses or support team information to see how you can be supported throughout your chosen degree.