BSc (Hons) Architectural Design Technology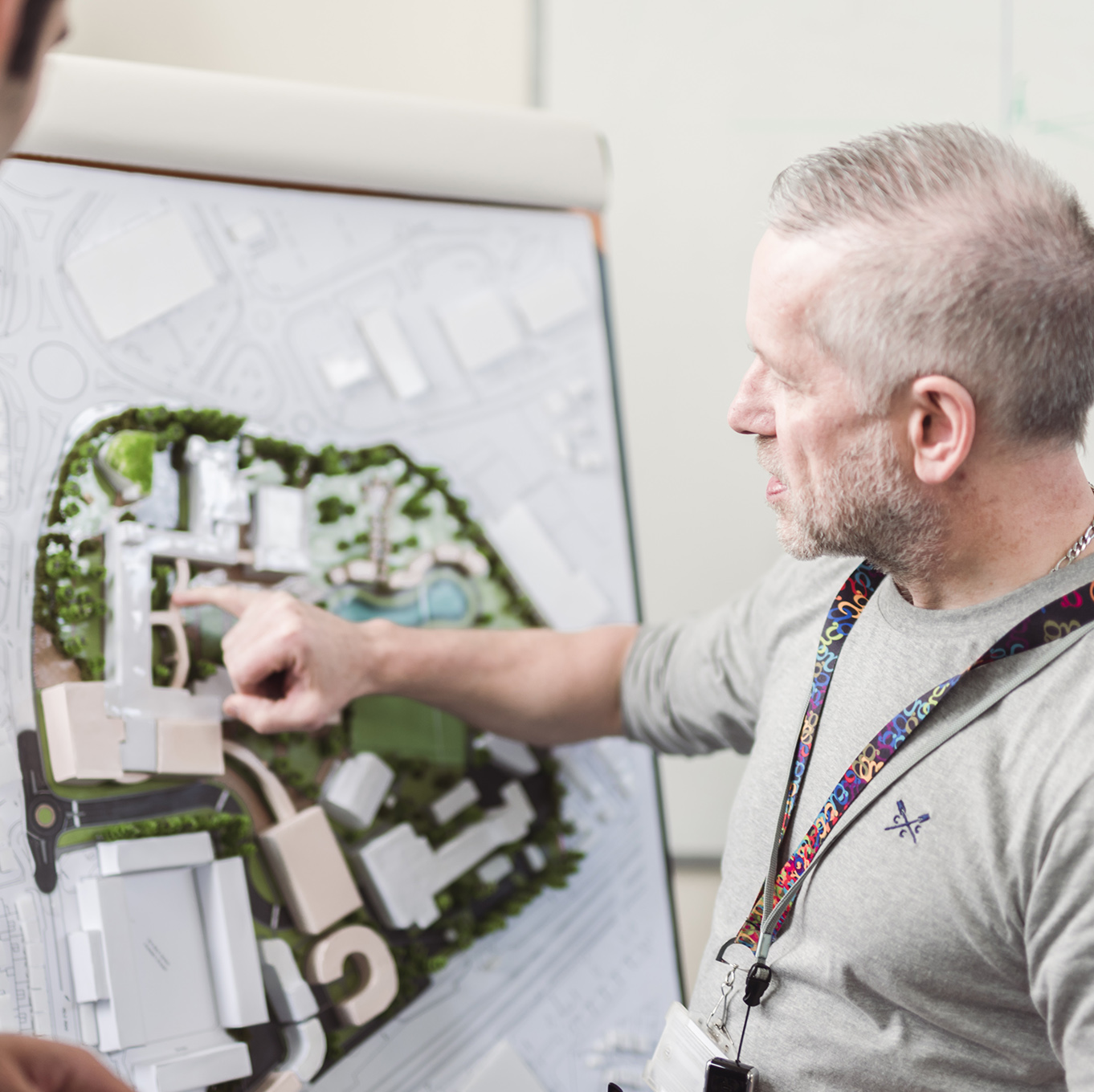 Course details
Duration
3 YRS (FT) 4 YRS (PT)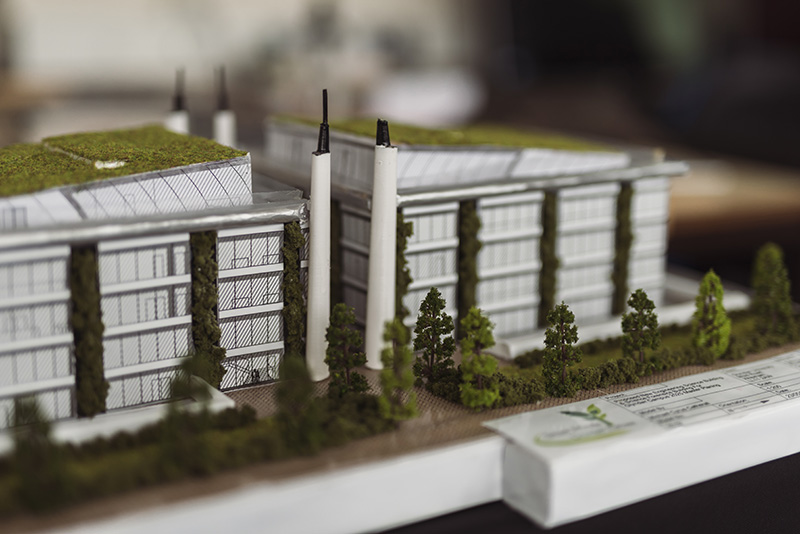 Built environment
at Wrexham University
Why choose? this course?
Our Architectural Design Technology degree explores how design and technology work together, giving you practical working knowledge of both areas.
The course is fully accredited by the Chartered Institute of Architectural Technologists (CIAT) and you will be eligible for Associate Membership (ACIAT) on graduation. You can progress to full Chartered status with appropriate experience, and being a Chartered Architectural Technologist will give you all the same powers as an Architect but in considerably less time.
Students:
can work on projects based on local sites, including real schemes with real clients, as well as involvement with European partners
will develop knowledge of how designs evolve from the initial idea to the construction stage, and beyond. This will include the implications of your choices of structure and materials in order to lead the way with cutting-edge design solutions for all scenarios
with a growing awareness of the impact the construction industry has as a contributor to climate change, you will understand how better design and technology choices can make you an Architectural Technologist who is offering solutions to these changes, including ensuring mitigation and resilience is key to how we deliver built environments
will work within a learning environment where your design experience is personal and focused on you developing your skills, discovering new ones, and becoming a confident and convincing Architectural Technologist
*The course is part of a subject area rated joint 1st in the UK for graduate prospects in the Building subject league tables, Complete University Guide 2023.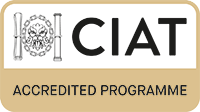 Key course features
Accredited by the Chartered Institute of Architectural Technologists, offering you student membership for free, and access to the young/new members group, AspirATion
*The course is part of a subject area rated joint first in the UK for graduate prospects in the Architecture subject league tables, Complete University Guide 2022
You will work in a friendly and supportive learning environment with a helpful teaching team who are themselves members of the professional bodies for the architecture and construction industry that accredit our courses
You will undertake a mixture of group and individual work and, where these are related to designs, you will have a dedicated studio space for architectural design technology students
You will have opportunities to meet specialists from across the architecture and construction industry both at the university and through our extensive programme of site visits.
You will be offered a placement experience at Level 5 of the course and will be able to take advantage of the employer network who use us to seek trainees and staff
You will have access to the latest Computer Aided Design software and digital information resources; as well as guidance and support from the teaching team in how best to use these to add to or develop your existing skills
What you will study
YEAR 1 (LEVEL 4)
The first year of our Architectural Design degree comprises six core modules that combine to provide an introduction to the processes and technologies that exist within the contemporary construction industry. Subjects are considered from first principles so that you can come to appreciate fundamental issues in the design, construction, management, use and decommissioning of construction projects.
The design focus of this year is domestic, with the task set allowing for exploration of how to house different individuals and families, reflecting everything learnt in complementary modules like Construction Technology 1.
MODULES
Design & Technology 1
Construction Management 1
Construction Technology 1
Sustainable Construction
Quantity Surveying Practice 1
Science and Materials
YEAR 2 (LEVEL 5)
This year builds upon the first by introducing further modules that explore important considerations in the development of construction projects.
The design focus shifts to public buildings, on a larger scale, and where possible, with real clients. Other modules include Planning and Building Regulations, which explores the two principal 'permissions' necessary when development is proposed, and Digital Technologies in Surveying which considers the use of digital equipment in the measurement of land. Year 2 also includes a compulsory week-long work placement.
MODULES
Architectural Design & Technology 2 (Including Work-based Learning)
Planning and Building Regulations
Construction Technology 2
Digital Technologies in Surveying
Procurement and Contract Practice
YEAR 3 (LEVEL 6)
The final year of the programme brings together the lessons of the earlier Design projects in the study and development of a significant commercial building, supported by in-depth research on a related technology and design aspect.
The year requires the development of a group project in Inter-professional Studies and provides an opportunity to explore a particular research interest in the Individual Research Project. All sixteen modules combine to engage students in their chosen field of study and are intended to encourage confidence and enthusiasm in the development of their expertise.
MODULES
Architectural Design & Technology 3
Inter-professional Studies
Construction Technology 3
Commercial Management
Project Management Technologies and BIM
The information listed in this section is an overview of the academic content of the programme that will take the form of either core or option modules. Modules are designated as core or option in accordance with professional body requirements and internal academic framework review, so may be subject to change.
Entry requirements & applying
UCAS code: K100
To enrol on the BSc (Hons) Architectural Design Technology programme, applicants will normally be expected to have previously achieved one of the following as a minimum:
48-72 UCAS tariff points to commence the Foundation Year at Level 3 (ie; 4 years full-time in total); or
80-112 UCAS tariff points to commence Year 1 at Level 4; or
a BTEC National Certificate or Diploma to commence Year 1 at Level 4; or
membership of a construction-related professional body at a level deemed appropriate by the programme team, to commence Year 1 at Level 4.
Applications from candidates who do not satisfy the standard entry criteria identified above are welcome and will be expected to demonstrate through an interview that they have the potential to succeed on the programme.
Candidates who are employed within the construction industry and have sufficient appropriate experience are also welcome, though diagnostic assessment prior to admission will be considered in order to measure academic capability, particularly in mathematics and English or Welsh.
Teaching & Assessment
A range of assessment methods are used within the programme to simulate the sorts of written, practical, visual and oral communication skills that are expected of architectural design technologists; written reports, the practical use of technical equipment, visual presentations, laboratory analyses, in-class tests, coursework and oral presentations are all important ways in which students can demonstrate their understanding. The types of assessment selected for each module have been chosen to best suit the nature of the technical content in each subject, and collectively provide a range of opportunities for students to demonstrate their interest, enthusiasm and interpretation of content during their studies.
With all assessments, you will be fully supported by the teaching team; including assigning you a personal tutor you can speak to about any issues you have during your time on the course.
TEACHING AND LEARNING
Modules are delivered using a variety of teaching and learning techniques, including traditional lectures, practical 'hands-on' activities, tutorials and group discussions. The main priority is to ensure that students feel comfortable within the academic learning environment and feel able to contribute to the discussion of subject matter within any class, tutorial or other learning activity that forms part of their studies – teaching and learning is fundamentally a two-way process within which student opinion is vitally important.
Work is undertaken both individually and in groups. You will be encouraged to think independently, critically and logically to effectively communicate appropriate design solutions. The course aims to inspire professionalism, design flair, technological competence and originality.
As there is a significant focus on design, the assessments relating to developing and producing buildings will be supported through specific lectures and evaluated through a variety of methods aimed at increasing confidence in presentation skills, both visual and verbal.
Wrexham University is committed to supporting our students to maximise their academic potential.
We offer workshops and support sessions in areas such as academic writing, effective note-making and preparing for assignments. Students can book appointments with academic skills tutors dedicated to helping deal with the practicalities of university work. Our student support section has more information on the help available.
In terms of particular needs, the University's Inclusion Services can provide appropriate guidance and support should any students require reasonable adjustments to be made because of a recognised prevailing disability, medical condition, or specific learning difference.
Career prospects
Our Careers & Employability service is there to help you make decisions and plan the next steps towards a bright future. From finding work or further study to working out your interests, skills and aspirations, they can provide you with the expert information, advice and guidance you need.
The BSc (Hons) Architectural Design Technology degree provides a qualification that is recognised as a comprehensive, informed and valuable measure of the ability of the Wrexham University graduate in architectural design, and the technologies associated with design and construction.
The range of design specialisms open to graduates includes restoration and heritage schemes, adaptive reuse of existing buildings, the development of social buildings, including housing, often with tenants and residents being the clients, to high end, high rise structures. Similarly, students have gone on to work on the full range of public buildings, from schools, colleges and universities, to commercial, retail and industrial units. These are not limited to the United Kingdom, with graduates having found work across the globe.
Other roles include:
Computer-Aided Design Technologists, including specialising in virtual and augmented reality work
Project Managers
Construction Site Managers
Designers specialising in restoration work, interior design, and product design
Fees & funding
You do not have to pay your tuition fees upfront.
Wrexham University's tuition fees for 2023/24 for a full-time undergraduate degree course are £9000 per year.
The fees you pay and the support available will depend on a number of different factors. Full information can be found on our fees & finance pages. You will also find information about what your fees include in the FAQs.
Programme specification
Accommodation
If you're looking for a place to stay while you study then take a look at our accommodation pages to get more information on your options, including our on-campus halls of residence Wrexham Village.
International
If you are applying as an European / International Student, and live outside of the UK, you should make your application through our online application system, Centurus.

For information about the university's entry requirements for EU/international students, please visit our international section.

TypeError: Cannot call method "getContent" of null