HNC Construction Technology
Course Highlights
Accredited
by the Chartered Institute of Building (CIOB)
Opportunities
to visit live construction projects and observe site operations
Complete
your studies in one academic year on a day-release basis
Why choose? this course?
The construction industry is one of the largest employment sectors in the United Kingdom and requires a constant supply of construction technologists to contribute to building and civil engineering projects of all sizes.
The HNC Construction Technology programme is an ideal qualification for those who are motivated by seeing their hard work rewarded and their expertise recognised within a vibrant and challenging construction industry.
Whilst many construction technologists are engaged in the detailed design and supervision of new development projects, many others are responsible for those technologies that contribute to heritage and refurbishment projects; often sensitive in nature because of historical or architectural significance, or the traditional quality of the existing fabric. A career in construction technology can therefore be as diverse or as specialist as you want it to be in pursuing your own personal goals and ambitions.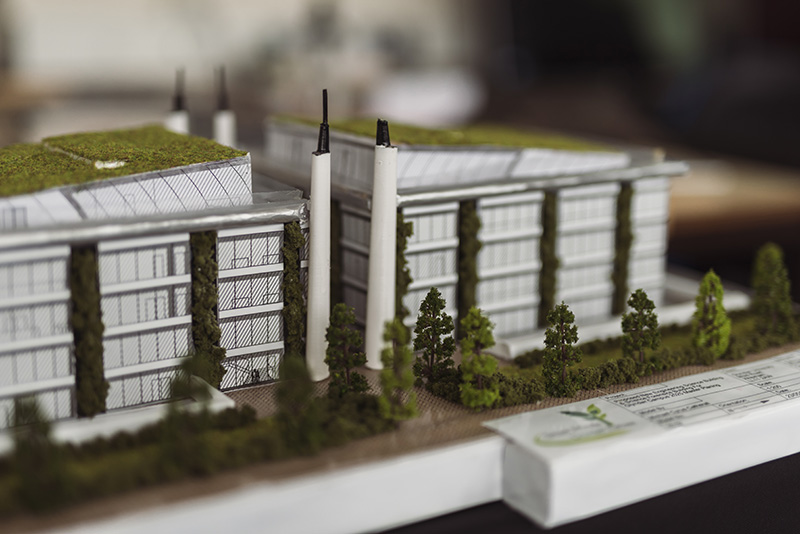 Built environment
at Wrexham University
Key course features
The course is accredited by the Chartered Institute of Building [CIOB].
It can be completed in just one academic year.
Visits to live construction projects to observe site operations in practice.
Further opportunities to directly engage with industry through conferences and guest lectures.
Wide-ranging industry-standard digital resources are available for use on and off-campus.
Lectures are delivered in consecutive blocks to facilitate a 'day-release' mode of attendance.
A variety of teaching and learning methods are used to ensure that technical content is applied to typical construction scenarios.
The Built Environment subject area is part of the Faculty of Arts, Science and Technology (FAST) and therefore content benefits from association with engineering, computing and renewable energy subject disciplines.
What you will study
The Higher National Certificate in Construction Technology course comprises six core modules that combine to explain the processes and technologies that exist within the contemporary construction industry. Subjects are considered from first principles, so that students can come to appreciate fundamental issues in the design, construction, management, use and decommissioning of construction projects.
MODULES (LEVEL 4)
Design Technology 1
Construction Management 1
Construction Technology 1
Sustainable Construction
Quantity Surveying Practice 1
Science and Materials
The curriculum content has been developed to satisfy the requirements of the Chartered Institute of Building's Education Framework, so module delivery accommodates all aspects of technical content that is expected to be covered within a Level 4 construction qualification. 
The information listed in this section is an overview of the academic content of the programme that will take the form of either core or option modules. Modules are designated as core or option in accordance with professional body requirements and internal academic framework review, so may be subject to change.
Entry requirements & applying
To enrol on the HNC Construction Technology programme, applicants must be employed within the construction sector and be facilitated with a 'day-release' mode of attendance. Applicants will normally be expected to have previously achieved one of the following as a minimum:
A Level 3 BTEC National Certificate or Diploma; or
membership of a construction-related professional body at a level deemed appropriate by the programme team;
or 80-112 UCAS tariff points
Applications from candidates who do not satisfy the standard entry criteria identified above are welcome and will be expected to demonstrate through interview that they have the potential to succeed in the programme.
Candidates who have sufficient appropriate industrial experience are also welcome, though diagnostic assessment prior to admission will be considered in order to measure academic capability, particularly in mathematics and English or Welsh.
International applicants whose existing qualifications are outlined by the National Academic Recognition and Information Centre (NARIC) as being equivalent to the relevant UK entry qualification are also welcome. All applicants whose first language is not English or Welsh will be expected to demonstrate English language proficiency; European applicants are able to provide this evidence in a number of ways (please read), including IELTS; International applicants require a UKVI Approved Secure English Language Test (SELT) (please read for details).
Teaching & Assessment
Modules are delivered using a variety of teaching and learning techniques, including traditional lectures, practical 'hands-on' activities, tutorials and group discussions, laboratory work, construction site-based observation and peer appraisal. The main priority is to ensure that students feel comfortable within the academic learning environment and feel able to contribute to the discussion of subject matter within any class, tutorial or other learning activity that forms part of their studies – teaching and learning is fundamentally a two-way process within which student opinion is vitally important.
A range of assessment methods are used within the programme to simulate the sorts of written, practical, visual and oral communication skills that are expected of construction technologists; written reports, the practical use of technical equipment, visual presentations, laboratory analyses, in-class tests, coursework and oral presentations are all important ways in which students can demonstrate their understanding. The types of assessment selected for each module have been chosen to best suit the nature of the technical content in each subject, and collectively provide a range of opportunities for students to demonstrate their interest, enthusiasm and interpretation of content during their studies.
In terms of particular assessment needs, the University's Inclusion Services section can provide appropriate guidance and support should any students require reasonable adjustments to be made to assessment processes because of a recognised prevailing disability, medical condition, or specific learning difference.
Teaching and learning
Wrexham University is committed to supporting our students to maximise their academic potential.
We offer workshops and support sessions in areas such as academic writing, effective note-making and preparing for assignments. Students can book appointments with academic skills tutors dedicated to helping deal with the practicalities of university work. Our student support section has more information on the help available.
In terms of particular assessment needs, the University's Inclusion Services section can provide appropriate guidance and support should any students require reasonable adjustments to be made to assessment processes because of a recognised prevailing disability, medical condition, or specific learning difference.
Career prospects
Our Careers & Employability service is there to help you make decisions and plan the next steps towards a bright future. From finding work or further study to working out your interests, skills and aspirations, they can provide you with the expert information, advice and guidance you need.
The Higher National Certificate in Construction Technology provides a qualification that is recognised as a comprehensive, informed and valuable measure of understanding in the application of technical construction detailing.
Opportunities for construction technologists exist within the construction industry in many varied contexts, from 'new-build' developments to heritage and refurbishment projects of all scales and types – developing a career as a construction technologist can therefore lead to many rewarding experiences, not least due to the fact that no two construction projects are the same, and that construction technologists are likely to spend as much time on-site as they are at their desks. These circumstances mean that a career in construction technology can often be challenging, particularly rewarding, but never routine.
The HNC Construction Technology qualification will therefore provide a sound basis upon which to develop a career in the technical aspects of construction projects in a range of contexts. Students who have already successfully completed the programme continue to establish themselves as technical designers, building inspectors, building surveyors and diverse other building technologists, not least because of the experience and understanding gained whilst following the HNC Construction Technology programme at Wrexham University.
Fees & funding
You do not have to pay your tuition fees upfront.
Wrexham University's tuition fees for 2023/24 for HNC Construction Technology are £9000
The fees you pay and the support available will depend on a number of different factors. Full information can be found on our fees & funding pages.
As an employee within the construction sector, please contact the Programme Leader Dr Gareth Carr as funding might well be available through schemes administered by sector skills organisations.
Programme specification
You can see the full programme specification here.
Accommodation
If you're looking for a place to stay while you study then take a look at our accommodation section to get more information on your options, including our on-campus halls of residence Wrexham Village.