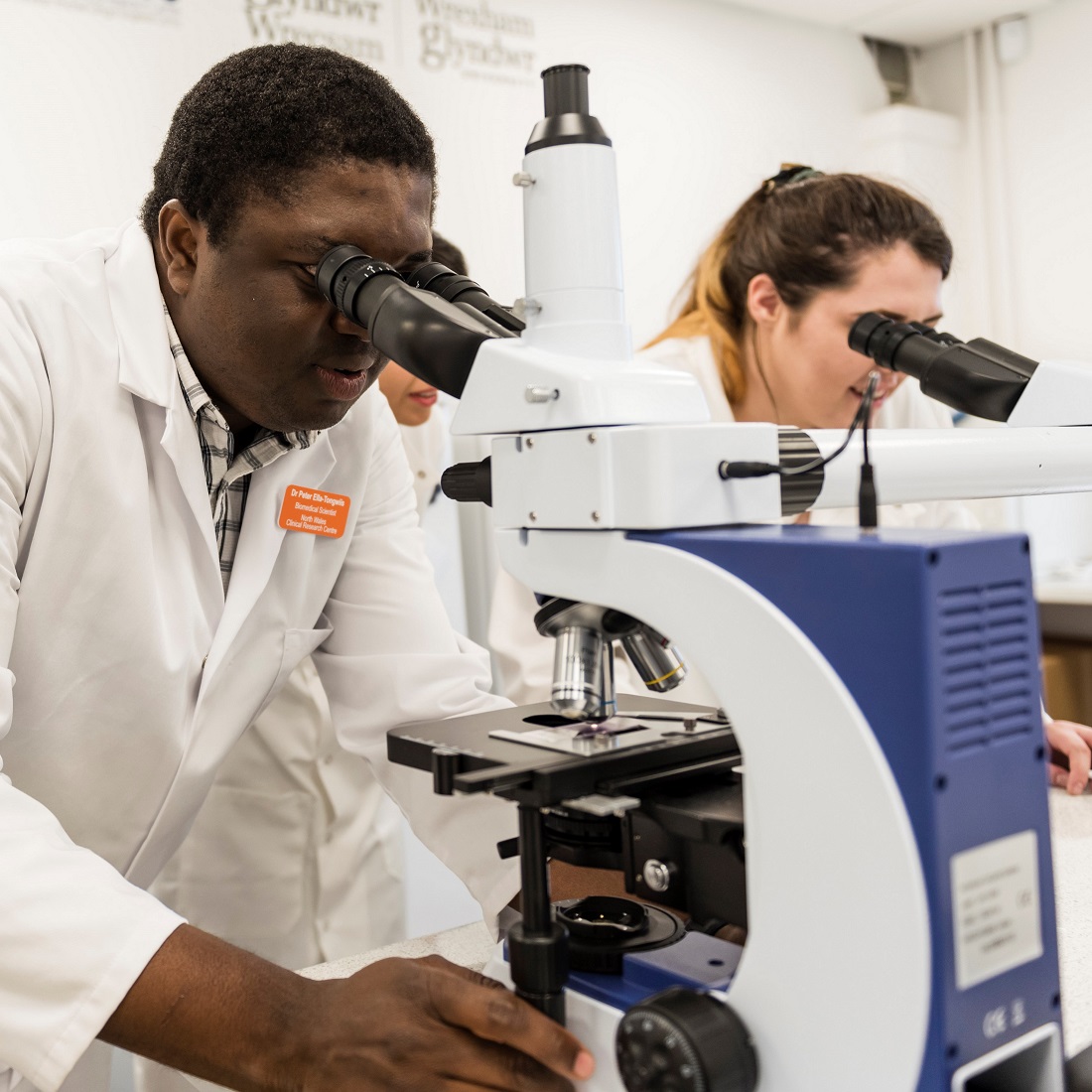 Why choose? this course?
Our course has been designed to provide a rich and dynamic student experience, achieved through a partnership between Wrexham University and Betsi Cadwaladr University Health Board. The programme is ideally suited to those seeking to study & practice within the biomedical sciences and healthcare sector.
This course:
includes a foundation year to prepare you for further years of study by building on your fundamental science knowledge and academic study skills.
has been carefully aligned with the requirements of the Institute of Biomedical Science (IBMS), the Professional Body that accredits the course.
offers a flexible programme with named routes to cater for the learning and personal/professional development needs of students wishing to work within a biomedical, clinical and healthcare perspective.
is taught by a highly experienced team of Biomedical Scientists, clinicians, clinical scientists, academics, and other healthcare professionals with a range of subject and research expertise.
allows students to develop their research skills, explore specialist areas, and complete an independent research project.
Students will:
develop knowledge, while analytical skills will be improved by undertaking laboratory-based investigations employing biomedical methodology.
undertake a five-week block of laboratory-based work at BCUHB, engaging with researchers and Biomedical Scientists. Additionally, some research projects in both the second and final year of the course may be conducted at the BCUHB.
after graduating from this course, be thoroughly grounded in ethical and reflective practice, and have a sound subject-specific and research knowledge base.

Key course features
Includes an optional foundation year to prepare you for further years of study by building on your fundamental science knowledge and academic study skills
Delivered in conjunction with BCUHB to ensure an authentic and contemporary education within real biomedical settings, embedded throughout the programme.
Access highly specialised facilities and equipment based both within the university and Betsi Cadwaladr University Health Board.
Inclusive and supportive teaching with tutorial support available through the medium of Welsh
Accredited with the Institute of Biomedical Science (IBMS)
What you will study
YEAR 1 (FOUNDATION YEAR)
The foundation year will introduce you to a range of scientific concepts and methods which underpin biological sciences. You'll gain thorough training in laboratory skills and will develop your analytical and mathematical skills. Students will be encouraged to develop their own abilities in science, with a basic bank of knowledge across the main scientific areas.
MODULES
Plant and Animal Biology
Laboratory and Field Skills
Maths and Experimental Design
Introduction to Science
The Skills You Need
Contextual Studies
YEAR 2 (LEVEL 4)
Year one of the programme establishes a platform of core knowledge across key subject areas including biology, physiology, mathematics and statistics, whilst also introducing students to immunology and microbiology. Specific modules ensure the acquisition of the necessary laboratory skills and a well-grounded understanding of professional issues relevant to the Biomedical Scientist.
MODULES
Professional Practice for the Biomedical & Life Sciences
Cell Biology, Biochemistry & Genetics
Maths and statistics for science
Essential skills for the Life Sciences
Health, Wellbeing and the Body
Introduction to Immunology & Microbiology
YEAR 3 (LEVEL 5)
Year two of the programme largely comprises specialist modules to give students the necessary knowledge in key areas of biomedical science. Students are also primed in research methodology and will design and carry out a mini project to prepare them for the final year project. Practical skills are reinforced in a 5-week intensive block spent at the Betsi Cadwaladr University Health Board.
MODULES
Cell & Molecular Biology
Blood Sciences
Research Methods, Theory and Practice
Cellular & Histopathology
Medical Microbiology
Advanced Laboratory Skills for the Biomedical & Life Sciences
YEAR FOUR (LEVEL 6)
The final year of study focuses upon topics at the forefront of current research in biomedical science and will further develop students critical and analytical skills. A significant part of the final year is a 40 credit research project in which students carry out an independent piece of research in an area of special interest to them.
MODULES
Research Project
Biology of Disease
Clinical Genetics & Cancer Biology
Infectious Disease, Immunity & Inflammation
Advances in Medicine: Diagnostics & Therapeutics
Entry requirements & applying
The academic requirements for the course are 48-72 UCAS tariff points at GCE A-level or equivalent, including a science at level 3.
Teaching & Assessment
A broad range of assessment methods are used; these include learning journals, group projects, portfolios, coursework, literature reviews, oral and poster presentations, case studies and laboratory reports, and written exams/ in-class tests. Each module is assessed by a variety of methods (e.g. case studies, essays, laboratory reports, presentations, etc.), enabling students to display their full potential. A project dissertation will form one of the final parts of your assessment.
Teaching & Learning
Wrexham University is committed to supporting our students to maximise their academic potential.
We offer workshops and support sessions in areas such as academic writing, effective note-making and preparing for assignments. Students can book appointments with academic skills tutors dedicated to helping deal with the practicalities of university work. Our student support section has more information on the help available.
In terms of particular needs, the University's Inclusion Services can provide appropriate guidance and support should any students require reasonable adjustments to be made because of a recognised prevailing disability, medical condition, or specific learning difference.
Career prospects
The course creates wide-ranging opportunities for employment in the following fields:
Biomedical scientist (NHS/private sector)
Biotechnology industry (research and development)
Pharmaceutical industry (research and development)
Food and water industry (testing, research and development)
Medical Sales
Healthcare support worker
Veterinary laboratory worker
Academic researcher
Teaching
Qualifications:
This course provides preparation for undertaking the Institute of Biomedical Science Certificate of Competence (a compulsory requirement for being a registered Biomedical Scientist affiliated with the Health & Care Professions Council).
It prepares students wishing to undertake a career in research, teaching, medicine, dentistry or to pursue studies towards our MSc Biomedical Science degree, a PhD or Postgraduate Certificate in Education (PGCE).
Completion of this degree will also ensure employment opportunities outside of immediate biomedical science areas such as management and finance roles.
The BSc (Hons) Biomedical Science course is relevant and employer ready, utilising a partnership between Wrexham Glyndwr University and the Betsi Cadwaldr University Health Board (BCUHB). It is accredited by the Institute of Biomedical Sciences (IBMS). It is taught by an experienced team of academics, biomedical scientists and other health professionals with a range of subject and research expertise.
IBMS degree accreditation ensures that a degree course covers the academic components of the standards of proficiency at the required level, so we meet the Health and Care Profession Council (HCPC) standards of proficiency for biomedical scientists. Students also receive a wide-ranging, research-informed scientific education and develop practical skills and experience that employers value.
Our Careers & Employability service is there to help you make decisions and plan the next steps towards a bright future. From finding work or further study to working out your interests, skills and aspirations, they can provide you with the expert information, advice and guidance you need.
Fees & funding
You do not have to pay your tuition fees upfront.
Wrexham University's tuition fees for 2024/25 for a full-time undergraduate degree course are £9000 per year.
The fees you pay and the support available will depend on a number of different factors. Full information can be found on our fees & finance pages.
Programme specification
You can see the full programme specification here.
Accommodation
If you're looking for a place to stay while you study then take a look at our accommodation pages to get more information on your options, including our on-campus halls of residence Wrexham Village.
International
If you are applying as an European / International Student, and live outside of the UK, you should make your application through our online application system, Centurus.
For information about the university's entry requirements for EU/international students, please visit our international section.