Course Highlights
High-quality
studio space in a traditional art school setting
Strong links
with galleries and exhibition spaces
Choose
your own direction as you develop your practice
Why choose? this course?
Explore drawing, painting, sculpture, installation, video and lens-based media and printmaking, and then take the opportunity to specialise, combine areas or to remain broad-based with this open, creative degree.
You will:
be able to develop as a creative independent artist with opportunities to take on commissions, showcase your work in exhibitions and enter competitions.
develop your own unique visual art practice and learn how to creatively use skills and choose materials to express your ideas
enjoy professional studio space set within a traditional Art School environment, allowing you to test out ideas through making
study in small groups allowing for individual support
benefit from strong links with a range of galleries and other exhibition spaces in Wales and the rest of the UK
have opportunities to study abroad or take part in projects with an international dimension
be encouraged to exhibit your work
gain knowledge from high profile visiting artists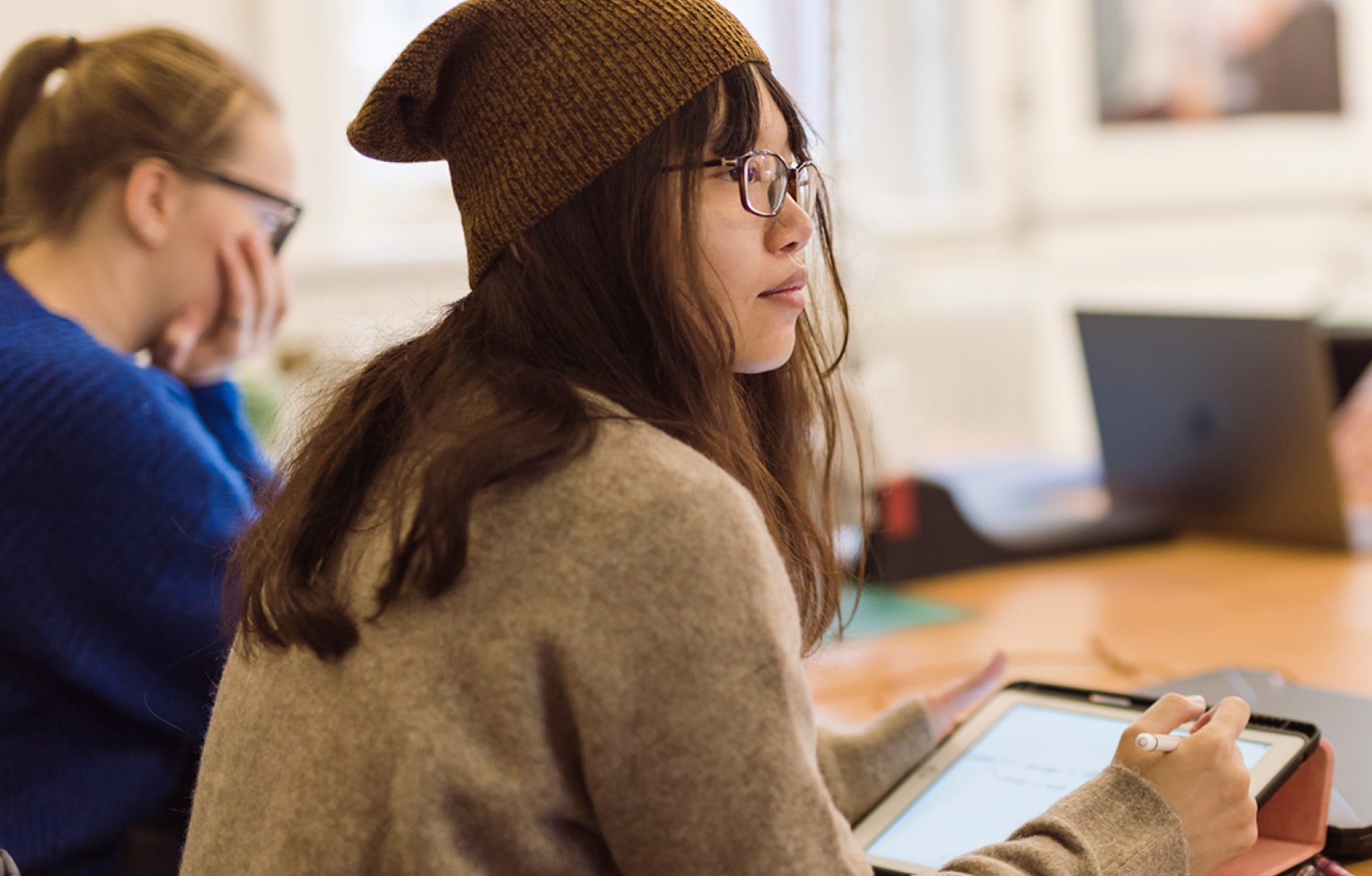 Key course features
Includes a foundation year to prepare you for further study
We have vibrant studio spaces set within a traditional Art School environment, allowing students to test out ideas through making.
Small group sizes allow for individual support.
Our experienced tutors are passionate about their subjects and regularly produce and exhibit their own work, both nationally and internationally, as well as writing about art practice in books and journals.
We have strong links with a range of galleries and other exhibition spaces in Wales and the rest of the UK.
Opportunities to study abroad or take part in projects with an international dimension.
Be part of an end of year degree show exhibition - view the 2022 Degree Show e-magazine, Unjammed.
Students are encouraged to exhibit their work and to gain knowledge from high-profile visiting artists.
What you will study
YEAR 1 (FOUNDATION YEAR)
The foundation year will introduce you to the key elements of art and design, including design practice, applied and fine art. You will explore the creative thought process relating to various art and design disciplines, developing your ability to put ideas down on paper quickly. There will be a range of practice assignments that will increase your recognition of strong ideas and original concepts.
MODULES
Introduction to Art and Design
Introduction to Applied Art
Introduction to Fine Art
Creative Thinking
The Skills You Need
Contextual Studies
YEAR 2 (LEVEL 4)
Level 4 of the programme initially provides the opportunity to explore a variety of specialist activities offered within Fine Art as a broad-based introduction. You will examine how artists process ideas through a combination of making and critical evaluation while learning to relate your experiences to those of other artists.
MODULES
History and Context
Creative Futures 1
Visual Communication
Media and Techniques (Fine Art)
Ideas and Concepts
Language and Practice
YEAR 3 (LEVEL 5)
In this year, modules enable students to consolidate and extend their learning with more advanced techniques and processes that challenge them to experiment with a variety of media and methods of communication. You have the opportunity to explore the areas of Fine Art practice you are most interested in within workshops led by skilled practitioners working within the field. Having developed an awareness of what is possible, you may then choose to specialise in an established area of practice such as drawing, painting, video, digital media, sculpture or printmaking or to adopt an interdisciplinary approach.
MODULES
Critical Thinking
Creative Futures: Making a living
Material, Form and Content
Visual Art Practice (Fine Art)
Specialist Study (Fine Art)
YEAR 4 (LEVEL 6)
The final year modules require more critical, analytical and lengthier negotiated studies where students can determine their own career path and have the opportunity to negotiate a year plan which places them with more responsibility for which projects they undertake. This is closely monitored through regular critiques, seminars and tutorials.
MODULES
Dissertation
Creative Futures 3
Negotiated Practice (Fine Art)
Fine Art Degree Project
The information listed in this section is an overview of the academic content of the programme that will take the form of either core or option modules. Modules are designated as core or option in accordance with professional body requirements and internal academic framework review, so may be subject to change.
Entry requirements & applying
Our general requirement for the foundation year is 48-72 UCAS tariff points but all applications are considered individually and we consider work experience, vocational training/qualifications, as well as motivation and potential to succeed.
The Fine Art programme team welcomes applications from anyone who can demonstrate a commitment to the subject and the potential to complete their chosen programme successfully. This can be established by showing appropriate academic achievements or by demonstrating that they possess the knowledge and ability equivalent to the academic qualifications.
An admissions tutor considers each application individually. All candidates will either be individually interviewed or invited to an applicants' day where they will have the opportunity to display a portfolio of their work.
Experience may also be taken into consideration, particularly for those applicants who do not meet the academic requirements above, depending on the extent and depth of subject knowledge.
Teaching & Assessment
The majority of the work is studio/workshop based and practical in nature supported with lectures, talks by specialist guest speakers, demonstrations, tutorials, seminars and critiques. Assessment is continuous, and there are a series of set and chosen, (both individual and team), assignments in which students learn a range of skills and techniques and apply them creatively to solve art and design problems.
Assessment is designed to enable students to participate in the measurement of their own progress, with clear aims provided from the very beginning of each module, regular feedback and group interaction with critical analysis throughout the course, giving students the opportunities they need to succeed.
Wrexham Glyndŵr University is committed to supporting our students to maximise their academic potential.
We offer workshops and support sessions in areas such as academic writing, effective note-making and preparing for assignments. Students can book appointments with academic skills tutors dedicated to helping deal with the practicalities of university work. Our student support section has more information on the help available.
In terms of particular needs, the University's Inclusion Services can provide appropriate guidance and support should any students require reasonable adjustments to be made because of a recognised prevailing disability, medical condition, or specific learning difference.
Career prospects
Fine Art, like all of our Art and Design undergraduate programmes, has a strong vocational and academic ethos that aims to ensure graduates acquire a range of vocationally relevant skills. Integral to this ethos is the responsibility to ensure that our graduates have a portfolio of abilities and attributes which will allow them to thrive in the 21st Century workplace. It takes into account the fact that the future needs of the creative industries are likely to be very different and aims to prepare 'independent learners' who, on completion of their studies, are able to flourish within increasingly diverse professional contexts.
We pride ourselves on the high level of realistic and practical experience of working in the professional creative environment that you can gain while you are on the programme. Students are encouraged to initiate, organise and participate in off-site projects and engage in professional opportunities, including commercial activities that have the potential to launch their career in Fine Art.
Many Fine Art graduates go on pursue careers in:
Independent art practice

Fine art conservation

Teaching in further or higher education

Teaching in primary and secondary schools

Gallery or other forms of exhibition work

Public or community arts

Education officers

Art therapists

Researchers

Artist agents

Technicians

Arts management
Our Careers & Employability service is there to help you make decisions and plan the next steps towards a bright future. From finding work or further study to working out your interests, skills and aspirations, they can provide you with the expert information, advice and guidance you need.
Fees & funding
You do not have to pay your tuition fees upfront.
Wrexham University's tuition fees for 2024/25 for a full-time undergraduate degree course are £9000 per year.
The fees you pay and the support available will depend on a number of different factors. Full information can be found on our fees & finance pages. You will also find information about what your fees include in the FAQs.
Programme specification
Accommodation
If you're looking for a place to stay while you study then take a look at our accommodation pages to get more information on your options, including our on-campus halls of residence Wrexham Village.
International
If you are applying as an European / International Student, and live outside of the UK, you should make your application through our online application system, Centurus.
For information about the university's entry requirements for EU/international students, please visit our international section.