Course Highlights
Collaborative
partnership with the local NHS.
Employability
and career opportunities in this national shortage area.
Placements
provided which are closely aligned to teaching.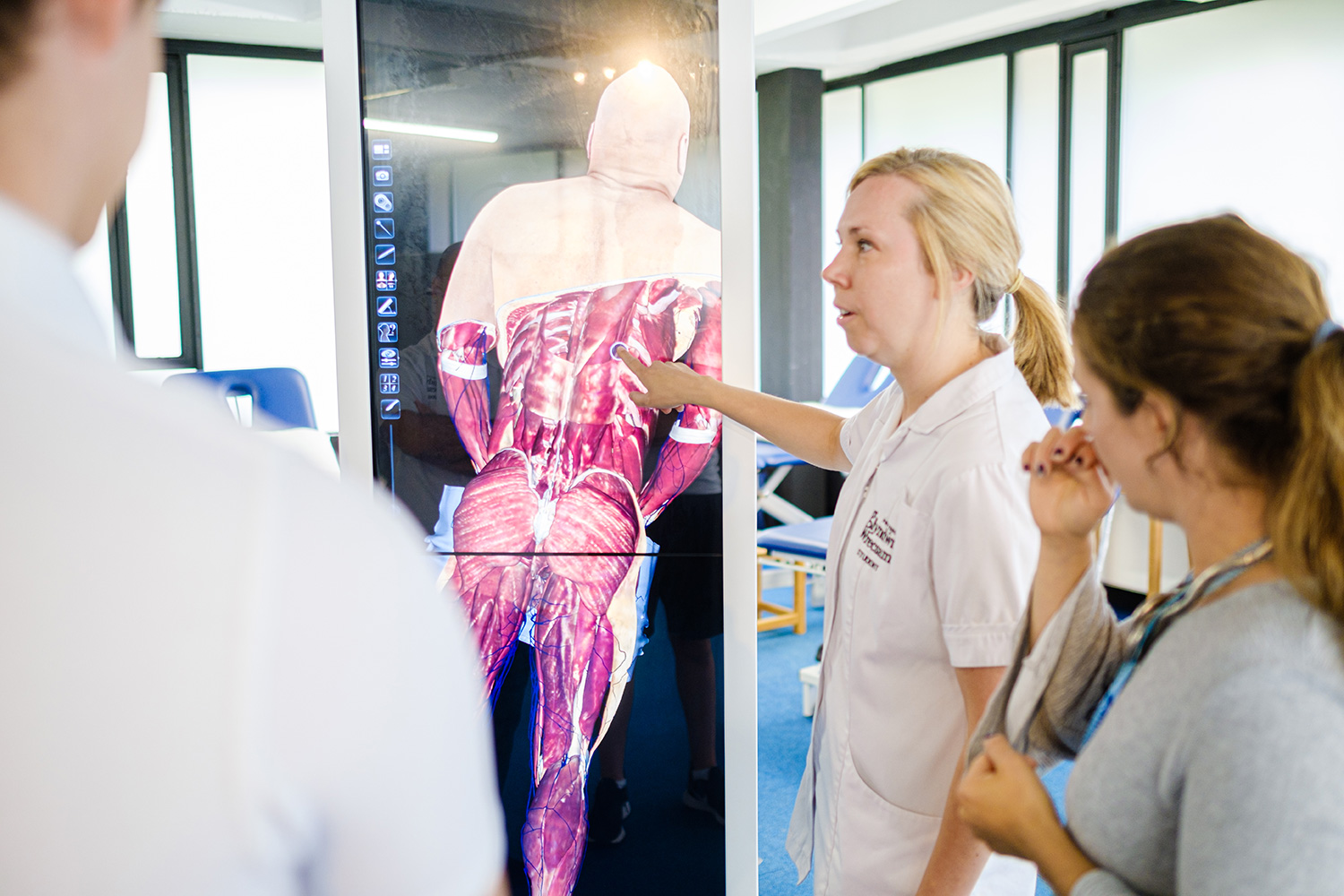 Operating Department Practice at
Wrexham University
Thinking of a career in Operating Department Practice? Hear from Programme Leader, Rob Evans about the course at Wrexham University
Why choose? this course?
Our Operating Department Practice degree allows students to learn in a manner which matches their future employment as an Operating Department Practitioner. We use a case study format throughout our teaching and assessment, meaning that all content relates directly to the real-life operating theatre environment.
Our degree is part of a collaboration with our local NHS Trust and local service users to ensure the course fulfils the requirements of the health service and community. The support on offer from the University and teaching team reflects the core values of Wrexham University. We are committed to widening participation and providing support to students. This will be felt by students, as they will play an active part in their own development into professional registration and employment.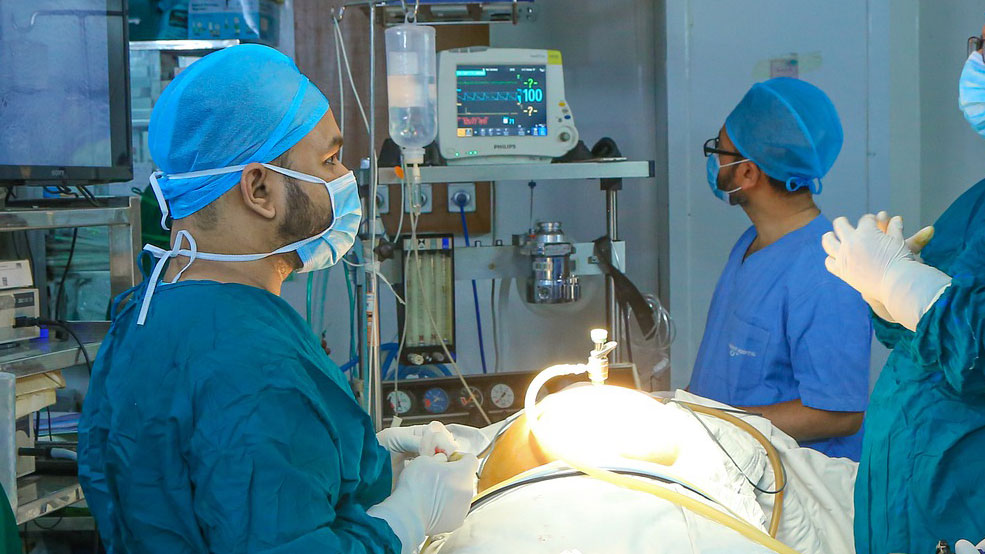 Why study Operating
Department Practice?
Programme leader, Rob Evans, to tell you about why you should come and study Operating Department Practice at Wrexham University.
Key course features
Opportunity to become professionally registered with the Health and Care Professions Council
Become part of a growing nascent profession with excellent employment opportunity
Develop knowledge and understanding of multi-professional care, autonomy and accountability within a professional framework and clinical problem-solving skills
The main delivery site for this course is our Wrexham campus. Occasional interprofessional education sessions may be delivered from our St Asaph campus with students from various nursing and allied health courses.
Case study approach to teaching, learning and assessment with considered assessment plan throughout the year

Close collaborative partnership with local NHS Trust
What you will study
Our ODP degree programme is structured as a spiral curriculum, meaning that topics are introduced in Year One, and then expanded upon in Years Two and Three.
Year 1 (LEVEL 4)
Year One is an introduction to the main topics of Operating Department Practice, including clinical, professional, research and life sciences topics.
MODULES
Introduction to Operating Department Practice: introduction to the fundamental topics of anaesthetics, surgery, and post-anaesthetic care
Introduction to Perioperative Clinical Skills: introduction to the practice placement element of being an ODP. This module will focus mainly on elective, scheduled cases.
Introduction to Life Sciences (IPE): introduction to the life sciences, including physical anatomy and physiology and mental health
Foundations in Professional Practice (IPE): introduction to the professional roles and responsibilities of an Allied Health Professional covering topics such as confidentiality, dignity, care, and reflection
Foundations in Research (IPE): introducing students to the concepts of research, becoming familiar with research articles, assignment writing, and statistics
Year 2 (LEVEL 5)
Year Two will expand on topics which were introduced in the first year. There will be greater complexity, and greater application to practice of an ODP.
MODULES
Developing Operating Department Practice: expanding on the theory behind anaesthetics, surgery, and post-anaesthetic care
Developing Perioperative Clinical Skills: more complex skills introduced within the practice element of the programme. More focus on emergency scenarios, emergency anaesthetics and surgery.
Applying Life Sciences to Perioperative Practice: re-visiting topics of life sciences with an application to anaesthetics, surgery, and post-anaesthetic care. Expanding on the considerations for, and treatment of body systems within the perioperative environment.
Contemporary Studies in Operating Department Practice: exploring policies which govern and shape modern Operating Department Practice, beginning with WHO Safe Surgery Saves Lives
Evidence in Practice (IPE): exploring how research directly impacts the practice of Allied Health Professionals in their clinical work.
Year 3 (LEVEL 6)
Year Three introduces students to expanding roles of ODPs, including Surgical First Assistance, Critical Care and Resuscitation. Students will also be prepared for practice by exploring elements such as audit, research, leadership, and management.
MODULES
Advanced Operating Department Practice: exploring the theory behind surgical first assistance, critical care, resuscitation, and caring for patients with complex needs.
Advanced Perioperative Clinical Skills: the practice placement element of more advanced perioperative practice with placements in departments outside of the theatre department to expose students to a greater depth of their scope of practice
Research for Practice (IPE): students will complete a research project exploring an area of Operating Department Practice where they will be able to collect their own data.
Transition to Professional Practice (IPE): students will explore leadership and management theories, preparation for employment and professional registration, and quality policies and procedures.
The information listed in this section is an overview of the academic content of the programme that will take the form of either core or option modules. Modules are designated as core or option in accordance with professional body requirements and internal academic framework review, so may be subject to change.
Entry requirements & applying
The minimum academic entry criteria for the BSc (Hons) Operating Department practice programme is:
112 UCAS points as described in the online prospectus, for which no specific subjects are required, plus GCSE English Language and Mathematics at Grade C or grade 4 or above (or equivalent). Candidates must also provide evidence of study within the five years prior to application.
In addition to the academic entry criteria, candidates must meet the following criteria:
Satisfactory Disclosure and Barring Service (DBS) check
Meet occupational health requirements
Teaching & Assessment
Teaching, learning and assessment will follow a blended approach with online content, videos, small group sessions and practical sessions. We have a case study format throughout, relating concepts to the real-life environment. The Active Learning Framework (ALF) will be used throughout each module, at each level. There is a broad range of assessments, using practice, case study portfolios, presentations, and posters.
Assessment methods include:
Essays
Presentation
Examination
OSCE
Teaching and Learning
Wrexham University is committed to supporting our students to maximise their academic potential.
We offer workshops and support sessions in areas such as academic writing, effective note-making and preparing for assignments. Students can book appointments with academic skills tutors dedicated to helping deal with the practicalities of university work. Our Student Support has more information on the help available.
In terms of particular needs, the University's Inclusion team can provide appropriate guidance and support should any students require reasonable adjustments to be made because of a recognised prevailing disability, medical condition, or specific learning difference.
Career prospects
Our Careers and Employability service is there to help you make decisions and plan the next steps towards a bright future. From finding work or further study to working out your interests, skills and aspirations, they can provide you with the expert information, advice and guidance you need.
Our ODP degree will give opportunity for you to be part of the Student Streamlining Project with NHS Wales and enables access to HCPC register as an Operating Department Practitioner (subject to HCPC approval).
Career options open to students after completing the course include:
Operating Department Practice
Surgical first assistant
Surgical Care Practitioner
Physicians associate
Physicians assistant
Fees & funding
This is a Welsh Government Bursary-commissioned programme. There is an NHS Wales Bursary Option with Student Streamlining Project.
A full NHS bursary, including tuition fees and a non-repayable bursary for living costs, is available for this programme providing you agree to work in Wales for two years after registration (subject to change).
Programme specification
Accommodation
If you're looking for a place to stay while you study then take a look at our Accommodation to get more information on your options, including our on-campus halls of residence Wrexham Village.
International
If you are applying as an European / International Student, and live outside of the UK, you should make your application through our online application system, Centurus.
For information about the university's entry requirements for EU/international students, please visit our international section.