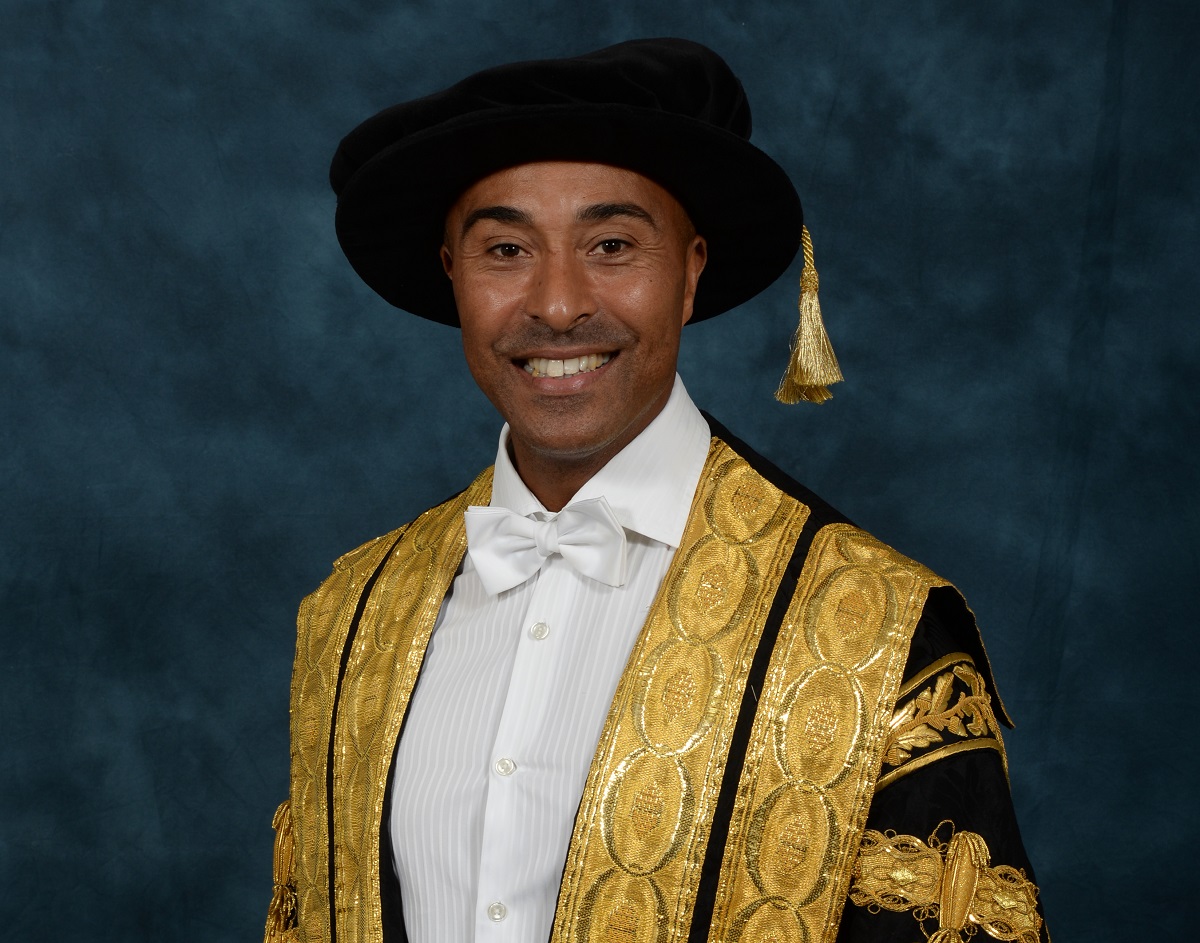 Chancellor

Colin Jackson CBE
Colin Jackson CBE was appointed as Chancellor of Wrexham University on 1st January 2019, and is the University's fourth Chancellor.
Colin was officially welcomed into the role at a Ceremony held on 15th February 2019.
The Chancellor is a figurehead and acts as an ambassador for the University and its staff and students, attending a number of important ceremonial duties, including the University's graduation ceremonies, and representing the University at various events.
Colin is a successful former athlete having won multiple gold medals and achieved a number of sporting world records. He is now a vibrant and charismatic broadcaster.
Biography
Colin was born in Cardiff, South Wales, and grew up in Llanedeyrn, attending Springwood Primary School and then Llanedeyrn High School. He played football and cricket for the county, Rugby union and basketball for his school, and joined the athletics club Birchgrove Harriers, which nurtured his talent.
He started out as a promising decathlete before switching to high hurdles. He won gold at the 1986 World Junior Championships before moving to Senior ranks. Following a silver medal in the 1986 Commonwealth Games, he won the 110m hurdles silver at the 1988 Olympic Games.
He set his world record for the 110m hurdles on 20 August 1993, winning his first World Championships gold medal in Germany. The new mark (also a championship record) stood for nearly thirteen years, however Colin remains sole holder of the indoor world record at the 60m hurdles in Germany on 6 March 1994. At the 1994 European Indoor Championships he became a double European champion: winning in both the 60m hurdles and 60m sprint races.
He won forty-four races consecutively between August 1993 and February 1995, with his winning time at the 1994 Commonwealth Games setting a Commonwealth Games record.
After retiring from athletics, Colin has seamlessly made the transition into broadcasting, most notably as an integral part of BBC Athletics, covering every major event since the Athens Olympics in 2004. Recent highlights include the London Olympic Games in 2012, the Rio Olympic Games in 2016 and the 2017 World Championships.
Mirroring his on-screen presentation and commentary, Colin is a vibrant and charismatic conference and awards host, and a high-level motivational speaker.
In 2012, Colin launched the Red Shoes Academy, through which Olympic and Paralympic sports personalities deliver presentations to school assemblies to motivate youngsters to find the 'champion within'.
In 2013, he created his own charitable fundraising event for men, Go Dad Run, to raise awareness of men's health issues and funds for male based charities, and has joined Sport4kids (S4K) as their International Director and Brand Ambassador.