BN (Hons) Mental Health Nursing
Course details
UCAS Code
MHJN (Mar '23) MH22 (Sept '23)
Location
St Asaph, Wrexham
Course Highlights
Gain
the knowledge and skills to become a graduate and NMC registered mental health nurse.
This subject area is rated 1st
for student satisfaction (Complete University Guide 2024)*
NHS bursary available
A full NHS bursary, including tuition fees and a non-repayable bursary for living costs, is available for this programme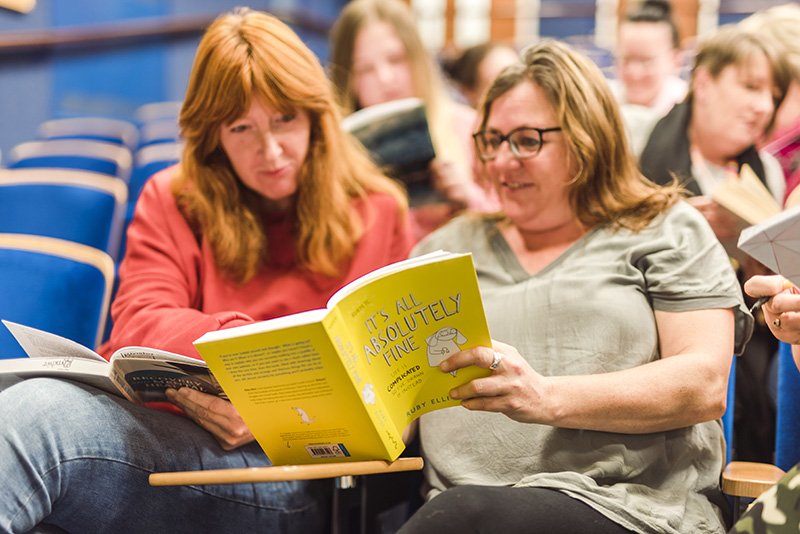 Nursing at
Wrexham University
Thinking of a career in Mental Health Nursing? Hear from lecturers and students about our various Nursing degrees at Wrexham University.
Why choose? this course?
Mental Health Nursing is a rewarding profession caring for people of all ages, their families and carers. At Wrexham University we will prepare you with the knowledge and skills to become a graduate and NMC registered mental health nurse. We pride ourselves on the support and guidance offered to students with an open-door approach.
You will:
have a personal tutor who will support and guide you in your personal and professional development.
be supported by a practice educator/academic assessor/practice supervisor and practice assessor whilst you are working in the clinical environment.
*study a course in the subject area rated 1st in the UK for student satisfaction in the Nursing subject league tables, Complete University Guide 2023.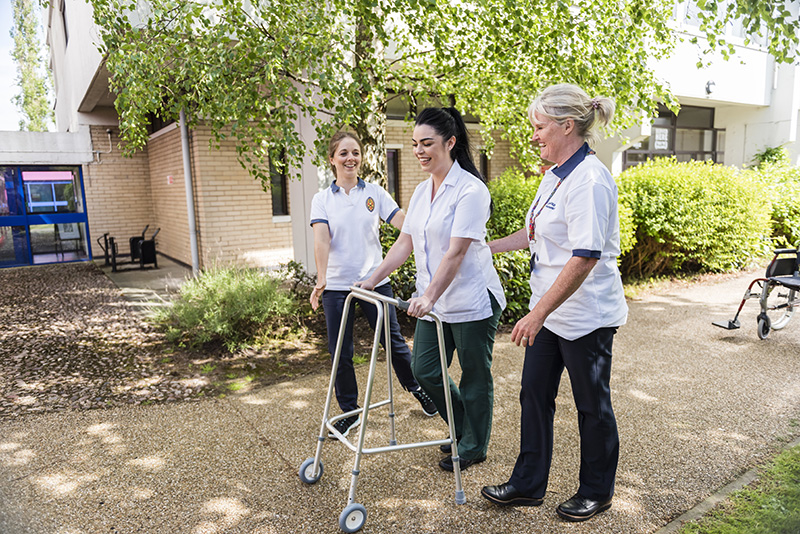 Nursing and
Allied Health
Key course features
Approved by the Nursing and Midwifery Council.
Variety of practice learning placements offered with BCUHB.
Strong commitment to the personal and professional development of students.
"The university is small enough for you to be a name, not a number." - former student, Katy Fortune-Probert.
Opportunity for elective practice learning placements in year 2 and year 3 of the programme.
Placements across the three years will take place in Wales within the Betsi Cadwaldr University Health Board for commissioned (funded places). The placements will be based in a wide variety of settings.
What you will study
Your theory sessions will be delivered using a variety of learning and teaching methods utilising a blended approach, considering Wrexham University Active Learning Framework, including lectures, problem-based learning, asynchronous discussions, seminars and skills acquisition sessions.
Access to virtual learning environments such as Moodle and Safemedicate - a learning package to assist in the development of numeracy skills and medicines management, are integral features of your learning.
The programme builds in terms of academic level and professional responsibility as it progresses throughout the three years enabling you to become more self-directed in your learning with an emphasis towards the end of your programme on leadership and development as a registered nurse.
YEAR 1 (LEVEL 4)
In year one you will focus on the fundamental care skills required to practice as a caring, kind, compassionate professional who values and respects the individual needs of the patient, family and carers.
MODULES
Fundamentals of Mental Health Nursing Practice (40 credits)
Managing Vulnerability in Society (40 credits)
Foundations of Health and Wellbeing (40 credits)
YEAR 2 (LEVEL 5)
In year two you will focus on law and ethics, emphasis on the holistic components of acute diverse and long-term mental health conditions, research and evidence-based care.
MODULES
Developing the evidence based practitioner (40 credits)
Meeting the needs of Patients and families in acute and chronic illness (Mental Health field) (40 credits)
Promoting Healthy Behaviours (40 credits)
YEAR 3 (LEVEL 6)
In year three you will focus on managing change, empowering service users and family/carers, applied bioscience for complex care and personal and professional development to prepare you for becoming a registered nurse.
MODULES
Innovations in Practice (40 credits)
Holistic Co-ordination of Complex Nursing Care in Mental Health (40 credits)
Leading & Managing Nursing Care (40 credits)
Entry requirements & applying
You must have at least five GCSE's at grade C/4 or above including English, Maths (or equivalent) and evidence of IT skills.
The academic requirements for the course are 80-112 UCAS tariff points at GCE A-level or equivalent.
Alternatively, you must have one of the following:
NVQ 3 (with evidence of English, Maths and ICT as above)

or
Completion of either the 'Access to Health' or 'Access to Nursing' (from an accepted Further Education College approved by either Agored Cymru or OCN North West England (QAA approved) achieved at the following level: 112 UCAS tariff points.
In addition:
Interviews are carried out on Teams with academic staff, service users and/or staff from NHS.
Experience of working in a health or social care setting is valuable.
DBS is required if successful at the interview.
Occupational health screening is required if successful at the interview.
Conditional offers can be made for those currently studying and awaiting academic results.
An IELTS examination will be requested if deemed necessary, with an overall score of 7 being required for entry onto the programme in line with university and professional body requirements.
The Application process:
To apply for the March intake, please use ANJN.
When applying, you will also need to select a campus. Please select campus code W for Wrexham or campus code A for St Asaph.
The nursing admissions team will screen each online UCAS application submitted for a level of digital literacy. One way of achieving this is that if you are shortlisted we will invite you to a selection event and you will be required to respond to the email invitation – this will assist us in measuring your digital literacy level. Attending a selection event does not guarantee a place on the programme so we recommend preparing beforehand to give you the best chance of success.
Preparation: Please read the NMC Code before attending your interview.
A literacy task will be conducted online prior to the interview. The literacy task is a written activity focussing on the professional values of the nursing profession. You will then be interviewed face to face on an individual basis where you will be required to answer some short questions to ascertain your knowledge and experience about a career in nursing. The interview team will comprise university academic staff and either a Trust staff member or service user.
Please ensure you are familiar with the Teams software prior to your interview.
Teaching & Assessment
You need to achieve a minimum of 2300 hours theoretical and 2300 clinical practice to enable registration as a Mental Health nurse with the Nursing and Midwifery Council.
You will be assessed by a variety of methods including:
Practice Assessment and clinical portfolio
Written assignments
Presentations
Examinations
Teaching and learning
Wrexham University is committed to supporting our students to maximise their academic potential.
We offer workshops and support sessions in areas such as academic writing, effective note-making and preparing for assignments. Students can book appointments with academic skills tutors dedicated to helping deal with the practicalities of university work. Our Student Support section has more information on the help available.
In terms of particular needs, the University's Inclusion team can provide appropriate guidance and support should any students require reasonable adjustments to be made because of a recognised prevailing disability, medical condition, or specific learning difference.
Career prospects
Successful completion of this degree will enable students to be eligible to apply for registration with the Nursing and Midwifery Council (NMC). This means that once students become a registrant with the NMC, they can practice as a registered nurse.
Careers in mental health nursing can include:
Opportunities to work in NHS organisations in hospitals, community, specialist services, forensic mental health services, and primary care.
Private sector organisation specialisations in forensic mental health care, nursing home care, and specialist drug and alcohol services.
Roles can include:
Working with children and adolescents with mental health problems
Early intervention psychosis services
Eating disorders services
Alcohol and substance use services
Acute and chronic mental health services
Dementia care services
Primary care services.
Registered mental health nurses, can expect a period of preceptorship to transition from a student nurse to registered practitioner (this is arranged by their employer).
Our Careers and employability service is there to help you make decisions and plan the next steps towards a bright future. From finding work or further study to working out your interests, skills and aspirations, they can provide you with the expert information, advice and guidance you need.
Fees & funding
This is a Welsh Government Bursary-commissioned programme.
A full NHS bursary, including tuition fees and a non-repayable bursary for living costs, is available for this programme providing you agree to work in Wales for two years after registration (subject to change).
Programme specification
You can see the full programme specification here.
Accommodation
If you're looking for a place to stay while you study then take a look at our Accommodation to get more information on your options, including our on-campus halls of residence Wrexham Village.
International
If you are applying as an European / International Student, and live outside of the UK, you should make your application through our online application system, Centurus.
For information about the university's entry requirements for EU/international students, please visit our international section.
Apply Now
March 2024 intake:
International students who wish to apply for March or September intake will only be accepted through our International Application System Centurus which is different from UCAS.