Why choose? this course?
Social work is a challenging, rewarding and diverse profession which offers opportunities across a wide range of specialisms. This programme prepares you for the demands of the role by offering a balance of theoretical, practical and practice experience.
The programme:
Incorporates a minimum of 200 days experience across the three years of the programme on practice learning opportunities, working with a variety of services and agencies, in order to develop their knowledge, skills and values in practice settings. These learning opportunities take place within our partnerships with Wrexham, Flintshire and Denbighshire Local Authorities.
Features support of a focus group of individuals, 'Outside In', which plays a key role in ensuring students have an excellent understanding of the reality of individuals' experiences of social work practice.In 2020 Outside In, won a Social Care Accolade for its part in educating the workforce of tomorrow, highlighting the key part this unique element of the course plays in ensuring students graduate with as much understanding as possible of the social work role.
Teaching explores issues such as core values, underpinning principles and theories, social policy and complexities which may arise due to the circumstances of the individuals with whom professionals are working.
*Is part of a subject area ranked first in Wales for student satisfaction and fifth in the UK for student satisfaction in the Social Work subject league tables, Complete University Guide 2023.
*is part of a CHA3 subject group ranked 1st out of welsh universities for overall satisfaction as well as 3rd in the UK and 1st out of Welsh universities for the teaching on my course in the National Student Survey 2022.
*has been ranked 3rd in the UK as part of the Social Work subject league table for Teaching Quality and 1st overall in Wales, including rankings for Teaching Quality, Student experience and Graduate Prospects in The Times and The Sunday Times Good University Guide 2023.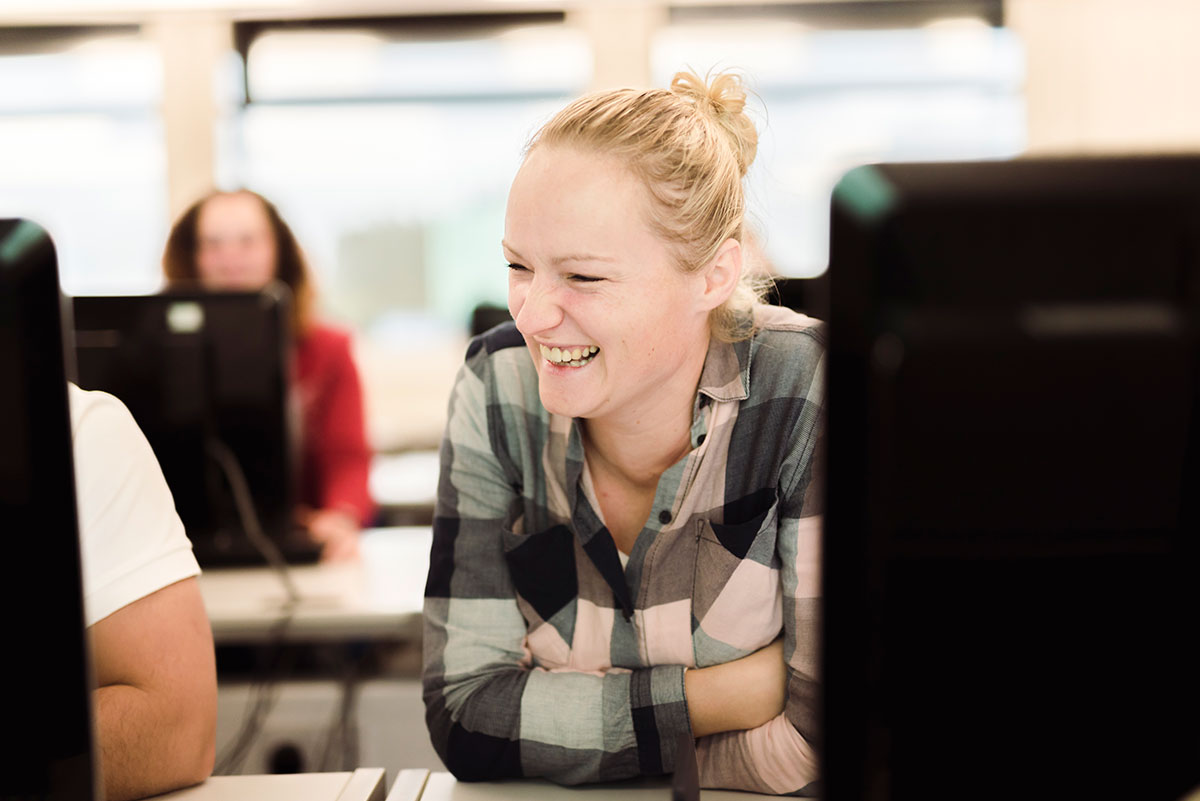 Outside In
'Outside In' is an innovative focus group, forming part of our Social Work degree in which members include those who've used social care and health services and who have expertise through experience.
Key course features
Supportive learning environment
Close links with local authorities learning opportunity providers
On graduating you will be eligible for registration with any of the UK's four Regulatory Bodies for Social Work
Varied employment opportunities on graduation
Course delivery by academics from a range of backgrounds with varied professional experiences and interests
A range of teaching methods are used, utilizing, for example, seminars, lectures, workshops and group work.

As well as rankings listed earlier, our Social Work degree is also part of a subject area rated Top 10 in England & Wales (11th in the UK) for teaching satisfaction, and is rated 1st in Wales for teaching & course satisfaction, in the Social Work subject league tables (The Guardian University Guide, 2023).
Please note, student Social Work students must be registered with Social Care Wales, which is the regulatory body for all Social Workers in Wales.
What you will study
YEAR 1 (LEVEL 4)
The primary focus of this year is the development of academic and professional practice. This is done through a combination of academic study and 20 day practice learning opportunity.
MODULES
Entering the Profession -Developing Practitioner 1
Foundational Social Work Skills –Skills for Practice 1
Applied ICT for Social Work -Informational Analysis 1
Introduction to Social Policy and Poverty – Frameworks 1
Learning Together – Completing the Circle of Partnership 1
The Life Course Perspective - Individuals in Context 1
Practice Learning Opportunity
YEAR 2 (LEVEL 5)
This year has a combination of exploring the theory and practice elements of the social work role and an 80-day practice learning opportunity.
MODULES
Conflicts and Dilemmas – Completing the Circle 2
Law and Social work –Frameworks 2
Interpersonal Dispositions -Developing practitioner 2
Exploring Social Work Skills – Skills for Practice 2
Social Work in Wales -Individuals in Context 2
Research for Social Work Practice -Informational Analysis 2
Practice Learning Opportunity
YEAR 3 (LEVEL 6)
The final year is focused on drawing together the different aspects of the theory and practice together, and for the students to then undertake a 100-day practice learning opportunity.
MODULES
Integrating Social Work Skills - Skills for Practice 3
Dissertation –Informational Analysis 3
Responsible and Accountable Professionalism – Developing Practitioner 3
The Creative Practitioner – Completing the Circle 3
Safeguarding in Context –Frameworks 3
Practice Learning Opportunity
Entry requirements & applying
The academic requirements for the course are 80-112 UCAS tariff points at GCE A-level or equivalent. You must be fluent in written and spoken English or Welsh and possess qualifications in English/Welsh (First Language) and Maths - at least grade C/4 at GCSE or an equivalent level 2 qualification.
Relevant experience (employed, voluntary or personal) is essential prior to applying for the course. Social Care Wales requires this to amount to a minimum of 455 hours. The third entry requirement is that you are able to demonstrate an understanding of social work.
All post-interview offers of a place on this degree, are conditional to the completion of a Disclosure and Barring Service (DBS) clearance so that we can assess your suitability for working with children and vulnerable adults. In addition, acceptance onto the programme is subject to registration as a student social worker with Social Care Wales.
Please note: we only accept deferred entries for Social Work in exceptional circumstances. You will need to speak with the admissions team if you wish to ask about the possibility of deferring.
Teaching & Assessment
Assessment is carried out in a variety of ways: presentations, essays, reflective learning logs, dissertation, and more.
Students are encouraged to undertake learning needs assessments in year 1 if needed – this will lead to the best form of learning support being offered to students on an individualised basis.
Teaching and learning
Effective social work is about an integration of theoretical and practice understanding. Consequently the programme is taught in a range of ways and through various media. Students can expect to experience straightforward didactic information giving, as much as interactive role playing and group work. Demonstrating intrapersonal communication and team work skills are fundamentals of social work practice, so you are expected to actively participate and engage in all learning opportunities and styles.
In response to C-19, the programme is being taught in a mix of on-campus and online sessions. It is a full-time course, with 3 days per week timetabled during the periods of academic teaching, and 5 days per week on practice learning opportunities. Practice Learning Opportunities are divided into 20 days, year 1, 80 days, year 2 and 100 days, year 3.
Wrexham Glyndŵr University is committed to supporting our students to maximise their academic potential.
We offer workshops and support sessions in areas such as academic writing, effective note-making and preparing for assignments. Students can book appointments with academic skills tutors dedicated to helping deal with the practicalities of university work. Our student support section has more information on the help available.
In terms of particular needs, the University's Inclusion Services can provide appropriate guidance and support should any students require reasonable adjustments to be made because of a recognised prevailing disability, medical condition, or specific learning difference.
Career prospects
Our Careers & Employability Service is there to help you make decisions and plan the next steps towards a bright future. From finding work or further study to working out your interests, skills and aspirations, they can provide you with the expert information, advice and guidance you need.
Many roles are available to qualified social workers, in statutory teams (typically within Local Authorities or organisations such as Health Boards), and in the third sector. A useful source of information for detailed information is the Social Care Wales website. As the regulatory body for social work in Wales, it's important that you become familiar with their requirements.
Fees & funding
You do not have to pay your tuition fees upfront.
Wrexham University's tuition fees for 2024/25 for a full-time undergraduate degree course are £9000 per year.
The fees you pay and the support available will depend on a number of different factors. Full information can be found on our fees and funding section.
Social Care Wales offer some bursaries to Social Work students, information about the amount and the process of making an application can be found on their website.
What are the conditions?
You have lived in Wales for at least 12 months in the 3 years prior to starting the degree (see Appendix 2 of the Social Work Bursary Scheme for full guidance).
You won't be getting any financial support to train from an employer.
You'll be studying a social work degree in Wales.
Students who live in England may be eligible for bursaries from the Department of Health for years 2 and 3 of their study.
Accommodation
If you're looking for a place to stay while you study then take a look at our Accommodation pages to get more information on your options, including our on-campus halls of residence Wrexham Village.