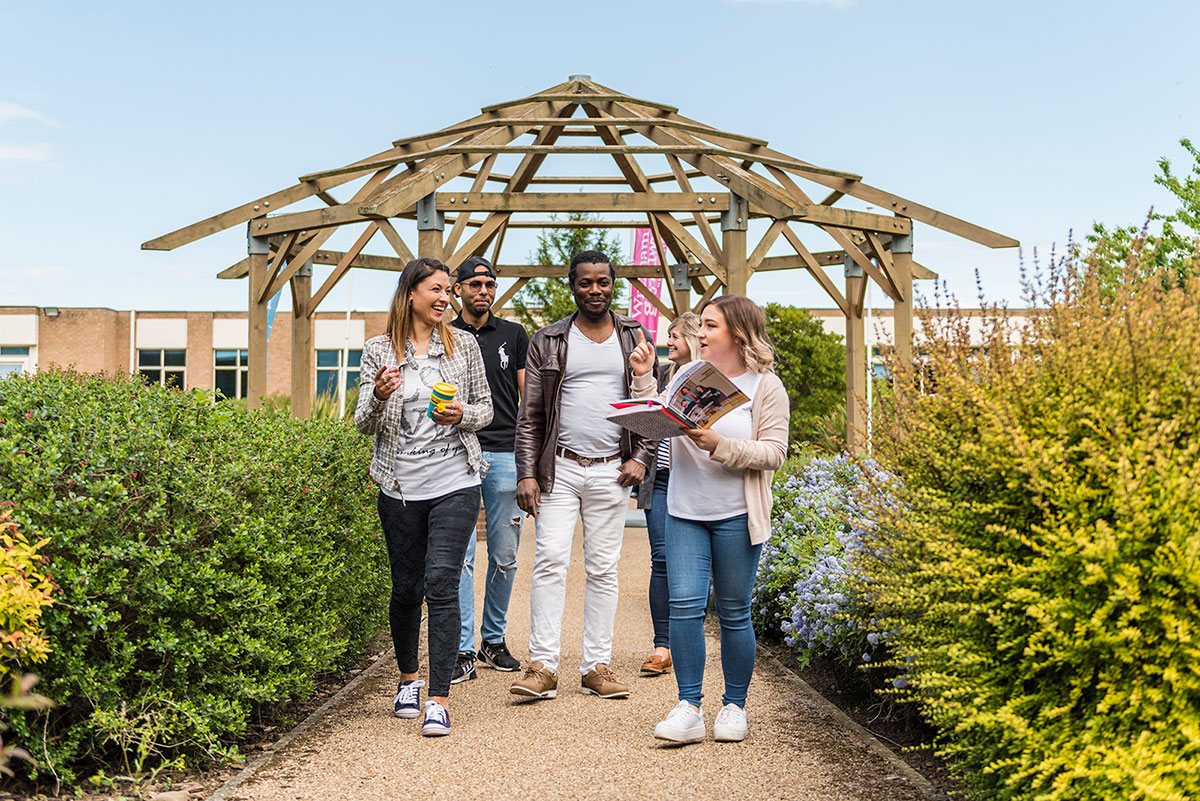 Arriving at university for the first time can be very overwhelming, but don't worry as there will be plenty of help during Welcome Week to help you get settled in and find your feet. You'll soon get your bearings and discover where everything you need is located both online and offline.
We've posted a few tips below to help you get to know your way around campus and beyond.
Campus map
You can download a copy of our campus map so you know where you are heading when you arrive.
If you are studying at our Arts School in Regent Street - this is just a short walk away (approx. 10 mins) from the main Wrexham campus)
Transport
The University offers transport between the Wrexham and Northop campuses. If transport is required, you may be able to get a free shuttle bus depending on the date and time. Your programme leaders should be able to give you more information on this.
Car parking is available for students at both our Wrexham and Northop campuses.
Food and drink
Although our university halls all have cooking facilities, the University provides a range of food and drink options on campus for students to eat, drink, relax and socialise.
Library
The library is based in the Edward Llwyd building and combines our physical book stock with a variety of study spaces, as well as printing and copying facilities.
In addition, you will be able to access many eBooks and eJournals.
For more support with digital learning, take a look at our digital toolkit.
Supermarkets
Alongside our own 'essentials' shop on campus, we are situated right next to the Plas Coch Retail Park, where you'll find Sainsbury's and Aldi as well as other useful retailers.
There is also a cashpoint situated at Sainsbury's as well the Shell Petrol Station, just across the road from the main University entrance.
Retail
As well as the various food outlets, you will also find an Art Shop at Regent Street and a Print and Book Shop in our Students' Union building. The SU building also hosts an Amazon locker too, so you can order things safely and securely online without worrying about having to be at home to pick up your order.
Wrexham town centre, including the popular Eagles Meadow Shopping and Leisure Park, are just a short walk away from the main campus, where you will find a wide range of high street retailers, restaurants and entertainment facilities.
Find out more about what Wrexham has to offer.
Council Tax and Student Bank Accounts
If you require proof of confirmation of your studies, you can now print this yourself. Typically you'll need to provide proof of your studies for things like opening a student bank account, a student gym membership or to provide evidence to your local council for council tax exemption. Please follow this self-service letters guide for details on how you can print these documents yourself.