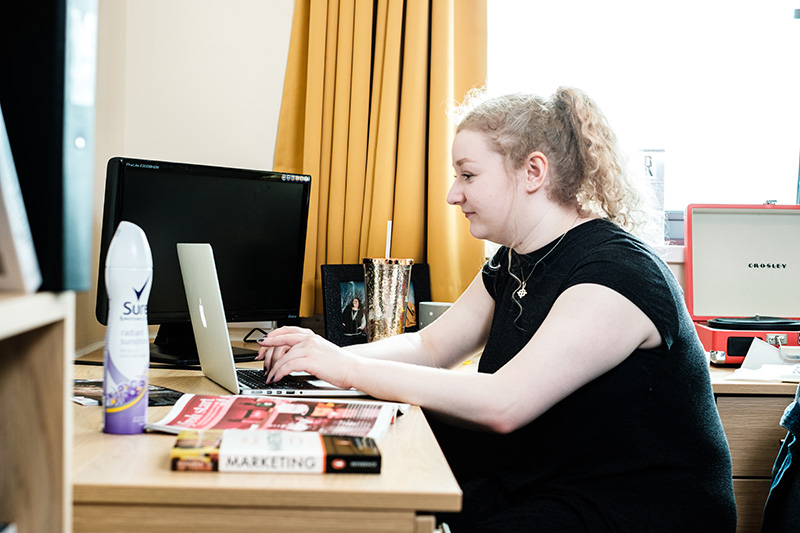 Congratulations on confirming your place at Wrexham Glyndŵr University!
The time is almost here for you to join us, and we can't wait to welcome you on campus. The coming weeks will be an incredibly busy time for you, so our aim is to make it as simple as possible for you to arrange everything you need before you arrive on campus.
We've put together a list below of everything you need to know before you get here.
Enrol online
Before you start your course here at Wrexham Glyndŵr University, you'll need to officially enrol as a student. You will do this online and you will be emailed a link to do so before you arrive.
View our enrolment section to find out more about pre-enrolment and what you'll need with you ready for online enrolment.
Sort out your student finances
The fees you pay and the support available to you will depend on a number of different factors. Please visit our main fees and funding section to find out exactly how much you need to pay, and whether or not you are eligible to receive any support packages.
You may wish to open up a student bank account in which to receive your loan instalments and budget for your expenditure. Most of the major high street banks are available in Wrexham town centre and there is plenty of advice online about which account is the best option. You can also open and manage a student bank account online. Some may offer you incentives to open an account but make sure that you don't get caught out with any hidden charges or catches. Read more in our student blog.
Book your accommodation
If you are moving away from home you will need to find suitable accommodation. At Wrexham Glyndŵr University, we offer both on and off-campus accommodation depending on your requirements and budget. The price of our accommodation includes free unlimited WiFi, utility bills, free parking with 24 hour security. Places can fill up fast, so you should try to book as soon as possible after receiving your offer of a place. If you haven't already done so, please visit our main accommodation pages for more information.
Support
If you have additional needs and feel like you may be in need of extra support when starting university, please do let us know. Anything you tell us will be confidential and will not be shared without your permission. If you'd like to find out more about our services and the support we can offer, you can get in touch with us for an informal chat on 01978 293266 or email inclusion@glyndwr.ac.uk
You can view more information about all of our support services including, academic support, careers, health & wellbeing and library services in our student support section.
Prepare for your studies
Here at Wrexham Glyndŵr University, we aim to help you settle into university and help build your digital skills during your programme of study with us.
After you have enrolled
Log onto the Myuni Portal by entering myuni.glyndwr.ac.uk into your browser and use the username and password you were given to enrol.
Click on the VLE (Moodle) button within the MyUni portal;
This is our Virtual Learning Environment which you will need to access on a regular basis through your programme of study. Within 24 hours of you first logging on, your programme and course modules will appear on the dashboard within Moodle.
All correspondence from the University will be sent to your student email address, and it is your responsibility to check it on a regular basis. Information on student emails can be found on our Student E-Mail webpages. We therefore recommend you forward your student email to your personal email address which you use on a regular basis.
Watch this video introduction to the MyUni portal and the VLE.
Starting at a later stage of a course?
If you already hold qualifications or experience which is equivalent to modules on the Wrexham Glyndŵr University programme you have applied for, you can apply for Recognition of Prior Learning/ Recognition of Prior Experiential Learning (RPL/RPEL).
This will exempt you from re-taking modules that you have already done. The amount of exemption you can apply for can range from an individual module to up to a maximum of two-thirds of the programme's entire total credit volume.
For more information about RPL/RPEL, see below.
Connect with us on social media
We want you to feel connected to the uni before you arrive, and there are plenty of ways to do that, but using social media is a good place to start.
Why not follow us on the accounts below:
You can also join the official Students' Union facebook page to keep up to date about social events, campaigns and special offers - it's also a good way to meet other new students and fellow course members before you even arrive.
Get vaccinated
First-time university students are at high risk of infection because they tend to live in close contact in shared accommodation, such as university halls of residence. That's why it's recommended that students going to university receive the MenACWY vaccine to improve protection against four different causes of meningitis and septicaemia – Meningococcal (Men) A, C, W and Y diseases.