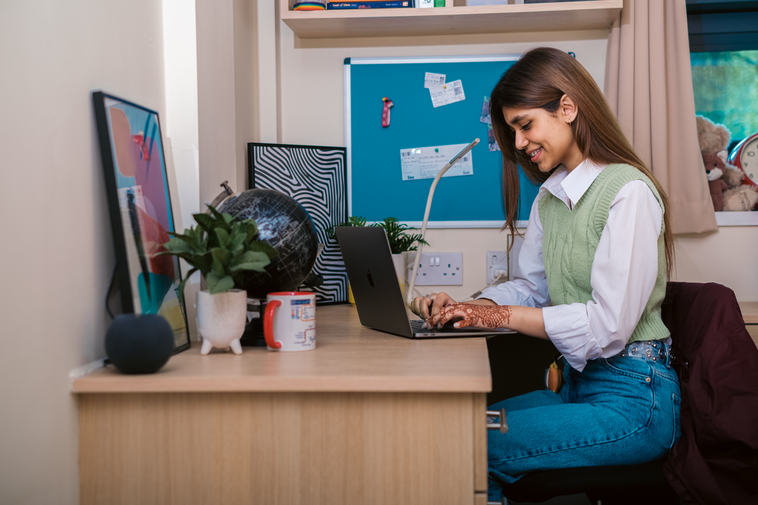 Moving to the University is a big step, and we want to support our student residents wherever we can.
The discounts are aimed at providing a little flexibility and go some way to ease the cost of living, giving students a cheaper accommodation rate but still including all the benefits of staying on campus at WSV.
ACCOMMODATION 2023/24 DISCOUNTS
Discounts/Scholarship offered for 2023/24

Discount

Eligibility

Who to contact to confirm eligibility

Discount Code

Care Leavers/estranged

50% discount on accommodation fees

Must be a Care Leaver or estranged from parents for 12 months or more.

WSV50CL

Early birds

Retain 22/23 accommodation room rates

Open to returning residents only – must apply before 31st March 2023

WSV22/23EB

Northern / Republic of Ireland or Ise of Man Accommodation Award

25% discount for 1st year of study

All new students with a home address in Northern / Republic of Ireland or Isle of Man who apply for accommodation with Wrexham Glyndŵr University.

The offer is subject to availability on a first-come, first-served basis

WSV25N/ROI/IOM

First Generation Opportunity Scholarship

25% discount for 1st year of study

Must be the first person in your family to be accepted at university

WSV25FG

Refugees and Asylum Seeker

25% discount for 1st year of study

Must be a Refugee and Asylum Seeker

WSV25RAS

Refer a friend scheme

£100 off next years accommodation both both students

New student being referred cannot have resided at WSV at any point during the previous academic year.

WSV/100/RAF
Plus student number of friend.

International package

15% discount off standard accommodation fees – Minimum 15 week contract

Open to all international students. Application through the accommodation booking portal

WSV15INTS

Full Payment discount

5% off if you pay for your contract in full up front

Open to all students - Payment must be made in full on application, discount will automatically be made through the booking system
How to Apply for a discount
Apply for your Wrexham Student Village accommodation online.
Provide any documentation needed for discount to contact provided above.
Ensure to include the discount code within the notes section of the application
If you are eligible and have provide the relevant documentation, your accommodation discount will be automatically applied to your payment instalments.
All offers are subject to availability at Wrexham Student Village accommodation, so it's advisable to get your accommodation reserved as soon as possible.
Terms and conditions of discounts
The discount only covers the costs of accommodation and won't apply to your initial deposit or any additional charges incurred.
The offer will only be applied for the year(s) stated above. Subsequent years may be charged at the standard rate.
The offer can be revoked if you fail to make your accommodation payments on time.
The offer will not be available to those deferring a place.
The offer may be removed if you fail to remain a student of the University
The offer is only available to those on a full time undergraduate degree course.
Offers will be awarded on a first come, first served basis and Wrexham Glyndŵr University reserves the sole legal right to make this judgement.
Each accommodation offer cannot be used in conjunction with any other offer.
Wrexham Glyndŵr University reserves the right to change or withdraw this offer at any time.