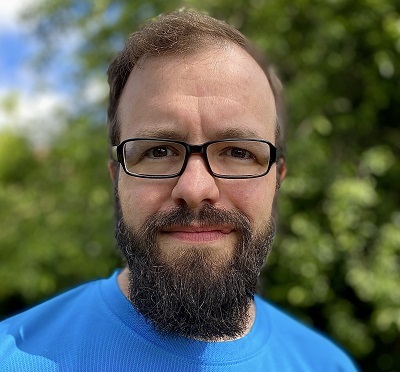 Chris Wallace is a postgraduate student studying MRes in Sport, Exercise and Health Science at Wrexham University. Chris also completed his BSc (Hons) Applied Sport and Exercise Science degree with us.
How did your time at Wrexham University prepare you for the world of work?
For me, already having an experience of the working world and returning to education was a big step. Although already experienced, I feel that the last three years have given me a chance to develop skills that have started to help on my return to work. I firmly believe that my prioritising skills have improved, along with my ability to work to deadlines. I have also found that my teamwork and leadership skills have also developed.
What does your current job involve?
I am currently working as a self-employed endurance coach and a coaching/teaching tutor for several governing bodies and training providers. With the work being so varied, I have to split my time between many priorities, from completing practical and theoretical coaching and teaching assessments to conducting athlete consultations, prescribing training and analysis of training and racing data to develop their fitness and skills.
What have been your career highlights to date?
Working with several athletes to help develop their fitness to qualify for age group championships in triathlon. Working within an excellent coach education team for Welsh Triathlon and was involved with changing how the coach certification courses have been delivered due to the COVID-19 restrictions.
What made you choose Wrexham University?
There were several practical considerations involved in the decision, including distance from home. Still, one of the main drivers was from recommendations from previous students of how welcoming of mature students Wrexham is. This, along with having a chance to discuss my options within the university with lecturers within the department and the support and knowledge they have across a wide range of specialisms, especially as I was unsure of what area of focus I wanted.
What kind of student were and are you?
In the main, I think I was passionate about learning throughout my time at Wrexham. I was at times a little bit last minute with my work and probably not as focused as I could have been. But, with the support of my lecturers and the guidance received, this was an area that I worked to develop.
How did studying at Wrexham help you?
Being able to return to education in my forties was a worrying and pretty scary time. Still, the great support received within the university really made me feel I was making the correct decision and has really helped me develop my confidence within my area of study and the academic skills required to do well.
What advice would you give someone wanting to work in a similar field?
Probably the best piece of advice I can give is never turn down the opportunity to broaden your applied experiences and take every chance to improve your skills and put you out of your comfort zone.
Would you recommend undertaking a course with Wrexham University, and why?
Yes, I would 100% recommend studying at Wrexham, especially within the Sports Sciences department, as due to the smaller size of the department, the opportunity to be involved with extra events, internships, and experiences is excellent, plus the chance to speak to lecturers and other staff if much easier. Above all, you feel that the staff know who you are, what you are about and genuinely care about how you are developing!
What is your favourite memory of your time at Wrexham?
One of the best experiences I have had was completing my dissertation on the effects of Tart Cherry Juice, and this gave me a great experience of what it feels like to conduct research from start to finish with all the highs and lows along the way.

If you could sum up your Wrexham experience in a quote, what would it be?
Becoming a mature student was a scary time, but it was made so much better by being supported and welcomed by Wrexham University and the staff within the Sports Sciences department.